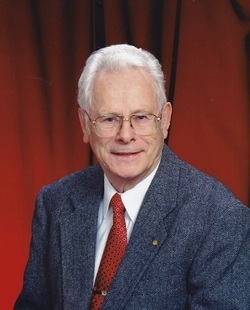 On Tuesday, February 9th, 2016 Henry Sterling George Sheppard passed away at his residence in Hughesville, MD. and went home to be with the Lord. He was surrounded by family & friends and went peacefully into the arms of his Savior.

Rev. Sheppard was born on March 14th, 1927 in Cambridge, MA and as a young man, went into the US Army and served in World War II from 1945-1946. He subsequently served in the US Air Force as a military command chaplain from 1955 until retiring in 1980 with the rank of Colonel.

He was a Reverend in the Evangelical Lutheran Church of America for over 50 years. Rev. Sheppard was a graduate of Wagner College, Staten Island, NY and the Lutheran Theological Seminary of Philadelphia. He pastored a congregation in Lake Jackson, TX for 4 years, was interim pastor of four other churches and served at St. Paul's Lutheran Church in Albrightsville, PA until retirement from active ministry in 1998. He had a long, distinguished career serving the Lord in the military & the Lutheran Church.

He is survived by his loving wife Joyce, his children, grandchildren, and great-grandchildren. He touched a lot of people's lives, was loved by many and will be greatly missed by all.

A Memorial Gathering will be held on Saturday, February 13th, 2016 from 10:00 – 11:00a.m. at Grace Lutheran Church, 1200 Charles Street, La Plata, MD followed by the Funeral service from 11:00 – 12:00a.m. conducted by Ed Huber, Assisting Minister. In lieu of flowers, donations can be made in memory of Henry Sheppard to the USO, PO Box 96860, Washington, DC 20077-7677 or at their website www.uso.org and to Hospice of Charles County, 2505 Davis Rd., Waldorf, MD 20603. Arrangements provided by Brinsfield Funeral Home.