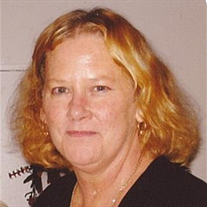 Betsy Jane Strobel, 60, of White Plains, MD died February 8, 2016 at the University of Maryland Charles Regional Medical Center in La Plata, MD.

Betsy was a Dental Office Manager for 15 years. She loved camping, playing pitch, her dogs, softball, and horseshoes. She most enjoyed being with her family, especially her grand kids.

Betsy was the daughter of Robert E. "Bob" Mitchell and the late Alma Cooksey Mitchell. She is also predeceased by her brother, Jay Mitchell and her sister, Barbara Susan Thomas.

In addition to her father, she is survived by her husband of 42 years, John "Glen" Strobel; her son, John "J.G." Strobel, Jr.; her daughter, Jill Dunnington (Eldrich); her brothers, Michael and Rick Mitchell; her sister, Patti Raymond; and her grandchildren, Daquan, Darian, Marissa, and Jay.

Friends received on Friday, February 12, 2016 from 5-8PM with Prayer Service at 7PM at Raymond Funeral Service Chapel, 5635 Washington Avenue, La Plata, MD 20646 and where Funeral Services will be held on Saturday, February 13, 2016 at 11AM. Interment at La Plata United Methodist Cemetery in Dentsville, Maryland.