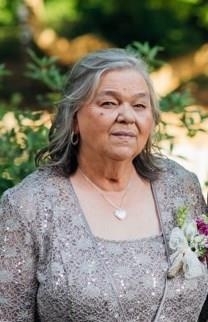 Elsie Mae Dye, 69, a lifelong resident of the Malcolm/Waldorf area of Maryland, passed away Saturday, February 6th, 2016 surrounded by close family. She was born October 5th, 1946 to Bernard Leroy DeMarr and Annie Elmira Green DeMarr, both of whom are deceased.

She was also preceded in death by her husband, Carroll F. Dye; daughter, Joyce A. DeMarr, and brothers, Bernard L. Jr, Norman H., Fredrick F. and William D. DeMarr.

Elsie is survived by her sons David DeMarr (Tracy) and Robert DeMarr (Debbie); daughters, Donna Moreland (Jimmy), Laura Herbert (Joseph), Stephanie DeMarr and Christina Blackwell (Ryan); brother, Robert DeMarr; sisters, Ida Beach and Mary Tolbert. She also leaves behind 14 grandchildren and 9 great-grandchildren.

Elsie attended the Hughesville School, then later La Plata High School. She spent the majority of her life as an expert Homemaker who treated everyone she met with the same kindhearted care and concern. She was known to many as "Grandma" and will be remembered fondly in that light.

She was an avid lover of puzzles, animals, cards, travel and (of course) bingo and casinos. Anyone that crossed paths with Elsie could assure you that, above all else, her favorite pastime was being in the company of her beloved family and friends. Aside from gifting us all with a lifetime of laughs and cherished memories, she did leave one piece of advice - "Never Say Goodbye, Say See Ya Later." And that we will, but we will keep you in our hearts until then.

The Huntt Funeral Home at 3035 Old Washington Rd Waldorf, MD 20601, has been entrusted with arrangements. Viewing hours are Thursday, February 11th from 4 to 8pm. The funeral service will be on Friday, February 12th at 11am, followed by burial service at DeMarr Cemetery in Aquasco, MD.