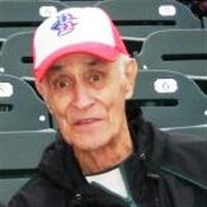 Vincent John Vabolis Sr., of La Plata, Maryland, formerly of Temple Hills, MD, died on Thursday, February 4, 2016 at the Sage Point Senior Living Services in La Plata. He was 94 years old.

Born on February 20, 1921 in Girardville, Pennsylvania he was the son of the late Bertha and the late John Albert Vabolis. Mr. Vabolis served in the U. S. Army during World War II until he was Honorably Discharged in 1945 at the rank of Staff Sergeant. He then worked as an accountant for several military base BX departments. He loved baseball and had played in the minor league in his younger days. Mr. Vabolis was a Southern Maryland Blue Crabs and a Washington Redskins fan. He was a member of the Moose, the American Legion Post 0249 in Temple Hills, MD and the V. F. W. Post 9619 in Suitland, MD. He loved western movies and spending time with his grandchildren.

In addition to his parents, Mr. Vabolis was preceded in death by his first wife, Catherine Vabolis; his sons John Vabolis and William Vabolis; along with his 12 siblings.

He is survived by his wife of 32 years, Virginia Estelle Vabolis;his son Vincent J. Vabolis Jr.; his daughter Barbara DiMichele and her husband Peter; his daughters-in-law Gale Ayres and Missy Vabolis; his seven grandchildren and four great grandchildren.

A visitation will be held on Thursday, February 18, 2016 from 5PM to 8PM with American Legion and V.F.W. Memorial Services beginning at 7PM at the Raymond Funeral Service, P.A. 5635 Washington Avenue La Plata, MD 20646. A funeral service will be held on Friday, February 19, 2016 beginning at 11:30AM also at the Raymond Funeral Service, P.A. Interment to follow at Cheltenham Veterans Cemetery. Arrangements provided by Raymond Funeral Service.