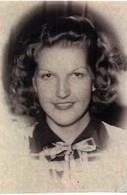 Dorothy (BeBe) (Dottie) Buckler, 87, of Hyattsville, Maryland passed away on Thursday, February 4, 2016 at 8:00 p.m. She was born in Chaptico, MD on May 24, 1928, the daughter of the late Gwynn and Dorothy Buckler. She married the late George O. Buckler, Sr.

In addition to her parents Gwynn and Dorothy Buckler from Oraville, MD she was preceded in death by her late husband George O. Buckler, Sr. her children Barbara Jean Buckler and Gregory Keith Buckler. Dorothy is survived by her son George O. Buckler Jr., his wife Lynne M. Buckler, three grandchildren and seven great grandchildren.

A viewing will be held at Huntt Funeral Home, Monday, February 8, 2016 2:00-4:00 and 6:00-8:00. The funeral will take place at 10 a.m. on Tuesday, February 9, 2016 with the burial immediately following. Arrangements provided by Huntt Funeral Home.