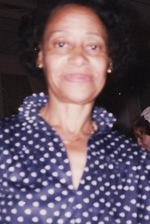 Mary Alice Somerville-Kent, 96, of Lexington Park, MD, formerly from Leonardtown, MD passed away on February 2, 2016 in Washington, DC. Born on March 14, 1919 in Hollywood, MD she was the daughter of the late Lottie Noema Mason Somerville and George Webster Somerville.

Mary is survived by her Niece Joan Rucker of Washington, DC. Siblings: Mary Aula, Lottie Noema, George Buenaventure, George Webster, Jr, and Agnes Covnelia. She was preceded in death by her daughter Teresa Ann Kane of Leonardtown, MD, 1 granddaughter, and brother James Mason.

Mary was a lifelong St. Mary's County, MD resident and was a housekeeper for private homes, retiring in 1984.

The family will receive friends on Tuesday, February 9, 2016 from 10:00AM – 11:00 AM in Immaculate Heart of Mary Catholic Church Lexington Park, MD. A Mass of Christian Burial will follow at 11:00 AM. Interment will follow in the church cemetery. Pallbearers will be: Joseph Somerville, Timothy Bullock, and Kevin Braddock. Arrangements provided by Mattingley-Gardiner Funeral Home.