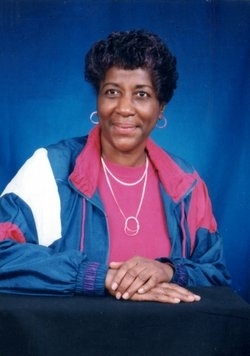 Mary Loretta Thomas, 76, (affectionately known as "Bush") of Loveville, MD was granted her angel wings on January 31, 2016 at United Medical Center in Washington, DC. Even during her long illness, Mary demonstrated a positive attitude and faith. Mary was born on September 21, 1939, in Leonardtown, MD, to the late Joseph Albert and Mary Ella (Bowman) Curtis.

Mary married the love of her life, John Francis "Pete" Thomas, Sr., on October 1, 1960, and they were blessed to have seven wonderful children: Carol A. Thomas, Cynthia M. Thomas, Imogene E. Thomas, Wanda D. Thomas, Virginia Renee Thompson (Robert); John Francis Thomas, Jr. (Alice), and Clarence H. Thomas (Tammy). Mary was the oldest of seven children and is survived by five siblings: Irma T. Curtis, Ella Noreen Curtis, Jane M. Wells (Lenny), Joseph T. Spears and Joseph Leander Curtis. She leaves 16 grandchildren and 22 great grandchildren, as well as a host of nieces, nephews, cousins and close friends. She is preceded in death by her parents and brothers George Albert "Bo-Boy" Curtis and John Calvin Curtis.

Mary was a lifelong resident of St. Mary's County. She graduated from Banneker High School in 1957. She was employed at St. Mary's Nursing Center for 46 years until her retirement in 2012. Mary also worked part-time as a caregiver for the elderly for 10 years. Her patients loved her pleasant attitude and welcoming smile. Mary enjoyed playing scratch offs, dancing, playing cards, giving advice (whether asked for or not), watching Lifetime Movies, and her favorite soap operas.

As a teen, she loved having lawn parties where friends would come to dance and enjoy themselves during warm summer nights. Mary participated in several dance competitions when she was in her teens, and actually won the St. Mary's County competition, which allowed her to dance on television on the American Bandstand Show hosted by Dick Clark. She also enjoyed watching wrestling with her husband Pete who was her constant companion. But most importantly, she enjoyed spending quality time with her family and friends.

Mary was a loving and passionate woman with a heart of gold. She had a smile that would light up a room and she would always welcome strangers with open arms and make them feel at home. She will truly be missed by her family and friends.

Family will receive friends on Monday, February 8, 2016, from 9:00 a.m. to 10:00 a.m. at St. Joseph's Catholic Church, 29199 Point Lookout Road, Morganza, MD. A Mass of Christian Burial will be celebrated by Reverend Keith Woods at 10:00 a.m. Interment will immediately follow the church service at Charles Memorial Gardens in Leonardtown, MD 20650. A repast will be held at Bowles Farm, 22880 Budd's Creek Road, Clements, MD 20624. Arrangements by Brinsfield Funeral Home, Leonardtown, MD.