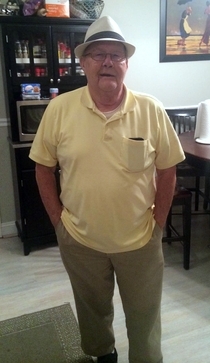 Charles Allen Wood Sr., aka, Pop Pop, Buzz, or Uncle Buzzy, 80, of Dunkirk, MD formerly of Westchester, PA, passed peacefully in his sleep on February 2, 2016. Buzz was born in Media, PA to the late Charles Moore and Aimee Cecilia Hoyt Wood. He was educated in the local school systems and served in both the Pennsylvania Air National Guard and the Air Force Reserves.

In 1957, he married the love of his life, Shirley Weiss Wood and they had three children, Charles "Allen," David and Laurie.

Buzz worked for over 30 years for Sun Oil in both the Marcus Hook and Newtown Square locations.

He loved hunting (especially deer) and fishing. He enjoyed watching (and commenting on) football, golf, old Westerns and his favorite reruns, but his passion was always family. Pop Pop was a character and every family member has a story about some time when he made them laugh. His friends became "family" to him.

Buzz was diagnosed with lung cancer in 2013. He was very brave and fought the good fight until his final days. He was cared for by his family and by an awesome Hospice team.

Buzz is survived by his sons, Allen and his wife, Terry of Dunkirk; Dave and his wife Stephanie of Mortonville, PA and Laurie Logan and her husband, Mike of Oxford, PA; one sister, Patience Dilworth and her husband Raymond of Kennett Square, PA, one brother, Frank "Sonny" Wood and his wife Delores of Alpine, CA ; nine grandchildren-Melissa, Michael and his fiancée Melissa Whetzel, Matthew and his wife Brandi, Aimee and Leanne Wood, Michael Logan and girlfriend, Amber Coolbaugh and Brittany Logan, David Wood, Jr. and Lizzy Milor and her husband, Rob; 12 great-grandchildren-Jayson, Desiree, Joshywa, Danny, Marcus, Kamerin, Sean and Gavin Wood, Mason and Reece Milor, Colin and Hailey Whetzel and many, many honorary grandchildren and family friends. His wife of 43 years, Shirley, and sisters, Aimee and Kate predeceased him.

Interment will be held on Monday, February 6, 2016 at 11 am. at Edgewood Memorial Park, 325 Baltimore Pike, Glen Mills, PA 19342. In appreciation of their devotion to Buzz, memorial contributions may be made to Calvert Hospice, PO Box 838, Prince Frederick, MD 20678. Arrangements provided by Raymond Wood Funeral Home.