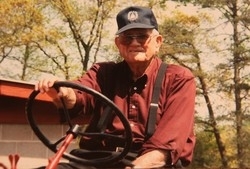 Samuel Chapman Spalding Sr., was born December 5th, 1930 the second son to Elizabeth Claire Thompson Spalding and Francis Xavier Spalding. In addition to his older brother, he had two older sisters and later received 3 younger sisters and 2 younger brothers before his mother passed away due to complications from childbirth. He regularly spoke of memories of his mother even though he was a young boy when she died. But it was his father and his mother's Thompson family who were major influences on him and instilled in him a rock solid work ethic and devotion to family.

On July 26th, 1952, he married his one true love, Alice Teresa Abell and being devout Catholics, they immediately began procreating and the children started piling up just one year later (tapping out at 10). They enjoyed 63 years of marriage and weathered the heartache of burying 3 of their children while making a living and keeping it all together for the other children. Aside from his family he was devoted to the farm he grew up on and working the land. Even in later years long after his farming days were over, he was always concerned about how the crops would do in whatever weather situation we had. (It always rained too much or not enough – just ask any farmer.)

Whether you called him Sam, Sammy, Dad, or Pop Pop, he made a lasting impression on you. He actually enjoyed working as well as playing cards with friends and neighbors, in-yard baseball games with his kids, eating vegetables right from the garden, a Bud beer or two and a cigarette in his younger years, eating hard crabs or scalded oysters, and watching the Redskins win (not much opportunity in later years for that). He served in the National Guard and worked for State Highway ultimately retiring after 26 years as Director of Maintenance from Harry Lundeberg School of Seamanship on September 1st, 1994.

Heart valve replacement surgery in 2009 at the age of 79 changed the course of his life and didn't come home the same person. He suffered from vascular dementia and reduced heart functioning that led to congestive heart failure. In spite of these problems, his quality of life was relatively good for a period of time. Even though he wasn't able to drive (he constantly told us he could drive better than most drivers still on the road even though he would say he didn't have a license) he was able to ride his John Deere Gator on the farm (and on the shoulder of 235 as we were told by many neighbors) and that made him feel at home and normal no matter what was going on.

He also got a bit of a return on his investment in all of those children who were there to help take care of him to the end. The last few months it was obvious that he was wearing out. He no longer took pleasure in riding his gator, the cold weather and dark days contributed to this but also the congestive heart failure was making every move he made difficult and tiring. He ultimately succumbed and died in the home he so dearly loved with his family by his side just as he wanted. His family was honored to be there for him every step of the way.

In addition to his wife he is survived by his children, Betty Smith (Gordy), Becky Ciarleglio, Anna Long (Gary), Sharon Farr (Jerry), Kathy Dean (David), Jenny Boothe (Wayne) and Jeff Spalding (Teresa); daughter-in-law Vicky Spalding; his brother George Spalding and sisters Kit Spalding, Betty Jo Abell, Sue Miedzinski, and Mary Jean Cooper. He was predeceased by his son, Sam Spalding Jr. and two daughters, Valerie Sue (stillborn) and Karen Ann Spalding; also by his brothers James, Francis Jr. and Sonny Spalding and his sister Helen Mattingly. He leaves 18 grandchildren and 24 great-grandchildren. Now that he is free in the arms of the Lord, may he enjoy reuniting with pre-deceased relatives and perhaps having a couple of cold ones. They are well deserved!

Pallbearers will be his son and son-in-laws, Jeff Spalding, Gordy Smith, Gary Long, Jerry Farr, David Dean, Wayne Boothe, and Galen Russell. Honorary pallbearers will be his grandchildren.

Family will receive friends for Samuel's Life Celebration on Thursday, February 4, 2016 from 5:00 to 8:00 p.m. with prayers recited at 7:00 p.m., at St. John Francis Regis Catholic Church, 43950 St. John's Road, Hollywood, MD 20636. A Mass of Christian Burial will be held on Friday, February 5, 2016 at 11:00 a.m. Interment will follow in the church cemetery.

In lieu of flowers, donations can be made to St. John's Building Fund, 43950 St. John's Road, Hollywood, Maryland 20636 or MedStar St. Mary's Hospice, P.O. Box 625, Leonardtown, MD 20650. Arrangements by the Brinsfield Funeral Home, P.A., Leonardtown, MD.