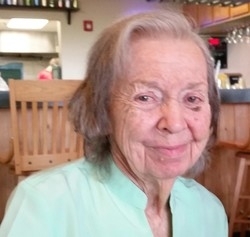 Katharine Loebner Reed, 91, of Mechanicsville, MD died on January 31, 2016 at her home surrounded by her loving family. She was born on November 13, 1924 in East Lancing, MI to the late Joseph Cox and Katharine Crane Cox.

Always wanting to lend a helping hand to a worthy cause, Kay (as she was known affectionately) worked in a factory during WWII in Cleveland OH, in support of the war effort. Having gone to Art School in New York and sadly widowed, she than later moved herself and her 3 children to Washington DC, to find a job in the art field. She found employment as a graphic artist for the Department of Agriculture until her retirement. It was there that she met her beloved Melvin Grimes Reed and on May 10, 1954, they married in Washington D.C. Together they celebrated over 43 wonderful years before his passing in May 1997.

In retirement she worked as a very talented professional artist. She crafted many beautiful pieces of pottery, under the name of "Feat of Clay" leaving her mark around the world. She also had a love of gardening, jazz music, bird watching, crossword puzzles and could always be found chuckling at British humor.

She was a 35-year member of the League of Women Voters, and a past board member. She was also a member of the National Alliance for Mentally Ill for over 35 years. Other organizations in which she was a member included Senior Vibes, the Red Hat Society, Humane Society, Save the Bay, National Democratic Society, and the Craft Guild of Southern Maryland.

She is survived by her daughters, Cassandra Cyr Reed (David Williams) of Mechanicsville, MD and Leah Loebner of Annapolis, MD; her brother, Joseph Cox of Texas; her grandchildren, Melanie DeMent (Jason DeMent), Amber Smith, and Joey Loebner; and her great grandchildren, Logan Hicks, Kaytlyn Young, Kylee Young, Taylor Hicks, James Godley, Parker DeMent, and Jace Koch. In addition to her parents and husband, she is also preceded in death by her sons, John Loebner and Daniel M. Loebner.

Family will receive friends on Thursday, February 11, 2016 from 2:00-4:00 p.m., with a Service of Remembrance at 4:00 p.m., at Brinsfield Funeral Home, P.A., 22955 Hollywood Road, Leonardtown, MD 20650. Interment will be private. Arrangements by the Brinsfield Funeral Home, P.A.