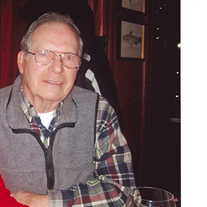 Mr. Robert J. "Bobby" Mudd Sr., died peacefully at home surrounded by family on January 30, 2016 in Pomfret, MD at the age of 79.

Robert is survived by his loving wife, Sylvia; his three children: Robert J. Mudd, Jr. (Alison, wife) of Mechanicsville, Maryland; Julie Yowell (Christopher, husband) of Pomfret, Maryland; and Stanton Blakeslee (Beth, wife) of Greenville, North Carolina. Mr. Mudd is also survived by his seven grandchildren: Michael, Tyler, Alexander, Arianna, Akayla, Aubrey, and Carson. He is preceded in death by his parents, George D. Mudd Sr., and Esther Jameson Mudd, his brother George D. Mudd Jr., as well as his son, Lance Corporal Michael P. Mudd, USMC.

Robert was born on July 15, 1936 in Washington, DC to George and Esther Mudd. He grew up on the family's farm in Pomfret, MD. He graduated from La Plata High School in 1954 and joined the United States Air Force in 1956. After being honorably discharged, Robert joined the Charles County Sheriff's Department in 1961 under Sheriff Buddy Garner. He served on the force for 20 years, achieving the rank of Second Lieutenant.

While an officer at the Charles County Sheriff's Department, he would meet and eventually marry the love of his life and fellow deputy, Sergeant Sylvia Blakeslee. They married on May 22, 1981, blending their two families, and shortly thereafter building a home on the family farm in Pomfret, where they continued to live for 35 years until his death.

Bobby was the embodiment of southern gentleman farmer: unassuming, hardworking, fearsome, and forthright, with the purest sense of right and wrong. He was a skilled craftsman, although in keeping with his humble nature, he would often say he didn't have a "creative bone in his body." Bobby was resourceful and could build or fix anything. But his favorite hobby, beyond tending to his cattle, was his faithful restoration of antique John Deere tractors. Many Charles County residents have seen his work on display at the Charles County Fair where for years the John Deere Club of Charles County [of which he was a founding member] has exhibited their talent and craftsmanship. He was also a member of the Fraternal Order of Police Lodge #24, The Charles County Sheriff's Office Retirees Association, The Maryland Two-Cylinder Club, and the Maryland Farm Bureau.

Bobby was also a loving husband, father, grandfather, uncle and friend. He was adored and respected by all for his honest, kind, and compassionate nature – qualities often masked by his tough exterior. He was also recognized for his generosity, and willingness to do for others. This commitment was born out of his deep faith and service to God. He was a lifelong, respected member of St. Joseph's Parish in Pomfret, where his body will be laid to rest at 2:00pm on Friday, February 5, 2016, with a reception to follow. Father Stokes will officiate the ceremony.

The viewing will be held at Raymond's Funeral Service, 5635 Washington Ave., La Plata MD, 20646 on February 4, 2016 from 2:00-4:00pm and 6:00-8:00pm, with prayers at 7:00pm. All are welcome to attend and celebrate Bobby's life. In lieu of flowers, please send donations to St. Joseph's Parish Capital Campaign at 4590 St. Joseph Way, Pomfret MD, 20675, or to La Plata United Methodist Church Capital Campaign at P.O. Box 2824, La Plata MD 20646. Arrangements provided by Raymond funeral service.

The family would like to thank Sierra Wheeler, RN for her gentle and committed care during Bobby's time of illness. She was a true blessing sent from God.