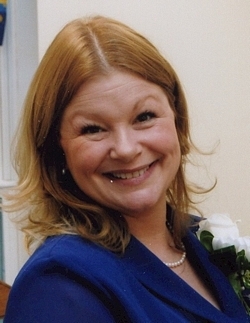 Gerry Dawn Smith, 52, a lifelong resident of Prince Frederick, MD passed away January 27, 2016 at her residence surrounded by family. She was born October 6, 1963 in Prince Frederick to O. Chuck and Mary Lou (Stafford) Cretsinger.

She attended Calvert Junior and Calvert High Schools, graduating in 1981. She worked at Nationwide Insurance in Annapolis, and for the past 33 years owned and operated Smith Printing, Inc. in Prince Frederick along with her husband Clifton Gregory "Greg" Smith.

Gerry had many interests and enjoyed cooking, gardening, flowers, shopping, dining out, attending shows and attractions in New York, crafting fused glass artwork, and going to the beach. She loved spending time with family, especially her grandchildren.

Gerry was preceded in death by her parents and a brother Robert "Chuckie" Cretsinger. She is survived by her husband Greg, son Salvatore Nicholas "Nicky" Gallodoro III of Forestville, daughter Crystal M. Street and husband William and son Clifton G. "Cliff" Smith II and wife Tracie, all of Prince Frederick; grandchildren Maya, Sadie, and Lily Dawn Street, and Mariah Murphy; brothers Butch (Jo Ann) and Wayne (Alberta) Cretsinger and sisters Terry Williams (Bobby) and Mary "Denise" Bates, and her mother-in-law Iris Smith of Prince Frederick.

Arrangements provided by Rausch Funeral Home.