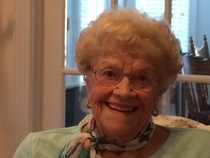 Kathleen Dora Degges, "Cassie" 95, of Owings, died on January 28, 2016 in Prince Frederick, Maryland. Cassie was born March 3, 1920, a daughter of the late Edward Joseph and Freda Louise Krahling.

She worked part-time at the U.S. Postal Service, Morton's Department Store and Sears, and was very proud of her years of Government Service with the Internal Revenue Service and Alcohol, Tobacco and Firearms.

She married Randall Clark Degges in 1936 and this union last 77 wonderful years. Together they built a lifetime of love and happiness with seven children, 21 grandchildren, 28 great-grandchildren, and 12 great-great grandchildren.

Cassie was a wise, strong, and caring woman. She lived her values, each and every day. She had a warm and generous heart, and was adored by all.

Cassie was preceded in death by her beloved husband and her oldest son, Edward Degges. She is survived by Ronald Degges and his wife Deniese of Indianapolis, IN and Robert Degges and his wife Debbie of Waldorf; daughters, Kathleen Rick of Drexel Hill, PA, Sandra Rinaldi of LaPlata; Judy Boswell and her husband Curtis of Seaford, Vickie Frye and her husband, Billy of Owings, daughter-in-law, Billie Degges of Greenville, NC; 21 grandchildren, 28 great-grandchildren, and 12 great-great grandchildren.

Viewing will be held on Tuesday, February 2, 2016, at 10:00 a.m., followed by a Funeral Service at 11:00 a.m., at Bethany Christian Church, 7128 Allentown Road, Fort Washington MD 20744. Burial will follow at Trinity Memorial Gardens in Waldorf, MD. The family requests, that in lieu of flowers, memorial contributions be made to Bethany Christian Church. Arrangements provided by Raymond Wood Funeral Home.