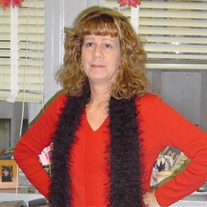 Cheryl D. Jodoin, 57, of Huntingtown, MD retired from the Department of Interior after 30 years as a Grant Manager, passed away peacefully, Thursday, 28, January 2016, surrounded by her loving family at George Washington University Hospital. Cheryl was born in Cranberry, WV on 25, April 1958 she was the loving wife of Bill for 30 years, loving mother of Melissa and Ashley, devoted grandmother of Kaitlynn and Amber and loving sister to Louise. She is survived by many nieces, nephews and two affectionate four legged family members Rascal and Bud. Cheryl was preceded in death by her Mother, Father, Brothers, and Sisters.

Sherry's true love and commitment was to her two daughters and two granddaughters where she devoted most of her time and energy supporting and enjoying the many activities of their lives. She was one of the most selfless people, always taught everyone to give. Sherry lived life to the fullest thriving on fun, loved people, and traveling the world with her loving daughter Ashley. They traveled to many places including the South Pacific Islands, Hawaii, and many destinations throughout the United States.

Sherry will be deeply missed by her family, friends, and others who were touched by her loving spirit. Her generous spirit will live through her wish to be an organ donor. We will always Love and remember you Sherry.

Arrangements provided by Lee Funeral Home.