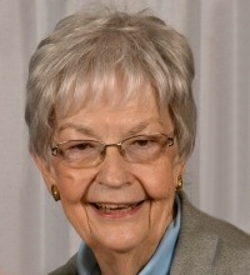 Clare Calvert Whitbeck, 75, of Leonardtown, MD passed away Saturday, January 23, 2016 at her residence, surrounded by her loving family. She was born on August 20, 1940 in Arlington, VA to the late George Walton Calvert and Lottie Mae Copenhaver Calvert.

After graduating from George Washington University in Washington, DC with a bachelor's degree in speech correction, Clare and her friend Isabel spent the summer driving to Clare's first teaching job in Arizona. This spirit of adventure characterized Clare's entire life. After a year in Arizona, where she taught special needs children and in her free time acquired her private pilot's license, she moved back east to teach in the DC public schools as a classroom speech improvement teacher. She later worked for the US Postal Service and the FAA, but she spent most of her working life as a bookkeeper for a variety of small businesses, keeping them on track financially as much as she could and holding them accountable when necessary.

On October 14, 1966, Clare married her beloved husband, Walter Laurence Whitbeck in Arlington, VA. Together, they celebrated over 49 wonderful years of marriage, even if they both had trouble remembering the exact date.

Clare enjoyed singing and wanted to develop her skills, so in the 1980's she started taking singing lessons. She enjoyed it enough to quit smoking and keep going until she received her Master of Arts in Vocal Performance from American University in 1997. She was an alto in the Christ Church choir, and sang in multiple church choirs and community choruses and in the Crittenden Opera Workshop. She also gave private voice and stage performance lessons.

After moving to St. Mary's County in 1997, Clare became active in monitoring governmental issues associated with quality of life including the environment, schools, land use and growth management. She several times ran for public office, once winning the primary for the Board of Education.

She also dedicated her time as a strong advocate for people in long term care, serving as the Treasurer and Legislative Chair of Voices for Quality Care, an all volunteer organization dedicated to improving the quality of life of those needing such care. When calls came in to the Voices helpline Clare would spend hours listening to people who felt helpless and then give them the tools to navigate through the system and, when she could, go to them personally. Her experiences with helping them fueled her passion to bring the problems (and ideas for solutions) to those who had the power to make the necessary changes.

She was a Meals on Wheels driver, Chair of the Solid Waste Advisory Committee, a member of the Citizen's Review Board for Children, and various other volunteer group and ad hoc committees. She also was a member of the Patuxent River Sail and Power Squadron, the Potomac River Association, the Coalition for Quality Care, The Democratic Club of St. Mary's County, NAACP, the League of Women Voters, and others, sometimes serving as treasurer.

Clare was determined to fill her role as grandmother to the utmost, entertaining the grandchildren at her home, at theirs, and on the road in between. Warm breezes brought opportunities to spend time on "OFFWEGO", a catamaran that was well suited for "the chickens of the sea" (as she and Larry described their sailing approach). When at home, she enjoyed watching the birds at the feeders on her deck (and chasing away the squirrels). She enjoyed cooking both from recipes and improvisation, as evidenced by the many great meals she created using only a microwave and electric fry pan while her kitchen was being remodeled.

In addition to her husband, Clare is also survived by her children, Sarah Crandall of Dunkirk, MD and Karen McKinney of Ijamsville, MD; her siblings, Richard W. Calvert of Kent, WA and Marjorie Sullivan of Justin, TX; her grandchildren, Graceanne Crandall, Ryan McKinney, and Katie McKinney; and nephew Phillip Loftis of Argyle, TX. She is preceded in death by her parents and her son-in-law Ray Crandall.

A Memorial Service and celebration of Clare's life will be held on Saturday, February 6 at 11:00 am at Christ Episcopal Church in Chaptico, MD. In lieu of flowers, contributions may be made to Christ Episcopal Church, Voices for Quality Care (PO Box 592, Chestertown, MD 21620), or to Hospice of St. Mary's. Arrangements by the Brinsfield Funeral Home, P.A., Leonardtown, MD.