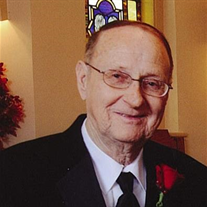 Morris Emanuel Howe, 74, died at home of Pancreatic Cancer. Morris was born August 28, 1941 to Thomas Jenkins Howe and Margaret Burch Howe. His elementary years were spent in Hughesville, Maryland.

He went on to La Plata High School where he graduated in 1960. He went to work for GSA in 1960 and left GSA to join the Air Force from 1961-1965. He came home and went to work for GSA in 1965 and later retired with 35 years of service. In 1966, he married Martha Bennett Howe and has been married for almost 50 years. He loved his family and was a great family man.

In addition to his wife, he is survived by his children, Tammy of Pittsville, MD, Philip of Colorado Springs, Colorado, Amy of Salisbury, MD, and Joy of Westover, MD; his brother, Pat Howe; his sisters, Cecelia, Ann, and Rosina. He is also survived by 10 grandchildren. He was predeceased by Thomas, John, Matthew, George, Margaret, and Betty.

Friends received on Thursday, January 28, 2016 from 5-8PM with an American Legion Ceremony at 7PM and where Funeral Service will be held on Friday, January 29, 2016 at 11AM at Raymond Funeral Service Chapel, 5635 Washington Avenue, La Plata, MD 20646. Interment to follow at Trinity Memorial Gardens in Waldorf, MD. Memorial contributions may be sent to Hospice of Charles County, 2505 Davis Road, Waldorf, MD 20603. Arrangements provided by Raymond Funeral Service.