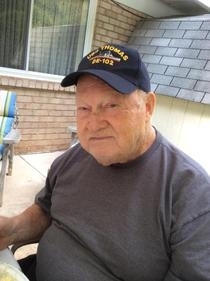 Dale George Tippery Sr., 93, of Silver Spring, MD died at Burnett Calvert Hospice House on January 21, 2016. Dale was born in Yankton, South Dakota on February 22, 1922 to the late Alva and Ida Kidder Tippery.

He enlisted in the United States Navy and served during World War II during which he was awarded several ribbons and medals. He was discharged in 1945, moved to Maryland, entered the police academy in 1950 and became a police officer in the District of Columbia Police Department on which he served for many years. While he lived in Montgomery County since 1955, he had recently come to Calvert County to be near family in this area.

Dale is survived by his wife of 73 years, Yolanda; his son, Dale Tippery, Jr. and his wife, Carol of Silver Spring, MD; daughter, Judy White and her significant other, Joseph Anderson of Chesapeake Beach, MD and Vicky Park, his ever-devoted caregiver; five grandchildren, Robert Wayne Tippery and his wife, Mary Ann Wilds, Christopher Dale Tippery, Jason A. White and his wife Christine, Matthew A. White and Zachary White and his wife Andrea and seven great-grandchildren.

Interment at Cheltenham Veterans Cemetery (Rt. 301 South, Cheltenham, MD) will follow the funeral service. Memorial contributions may be made to Calvert Hospice, PO Box 838, Prince Frederick, MD 20678. Arrangements provided by Raymond Wood Funeral Home.