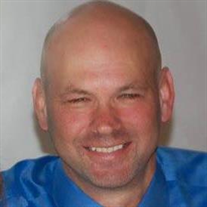 Richard Michael (Mike) Clemes of Owings, Maryland passed away on Wednesday, January 20th at the age of 49. He was born on May 11, 1966 in Cape Canaveral, Florida.

His family moved to Maryland in 1969 to Syracuse, New York and then back to Maryland in 1971. He graduated from South River High School in 1984 and entered the United States Air Force the same year. He proudly served his country for over thirty years until the time of his death attaining the rank of Senior Master Sargent. He was stationed in Okinawa, Luke Air Force Base, Arizona and the District of Columbia Air National Guard 113th Wing at Andrews Air Force Base with tours in Turkey and Iraq.

Mike loved adventure. He climbed Mt. Washington five times, got his pilot's license and flew his parents from Maryland to Beaver Island, Michigan in a small single engine plane. He loved the outdoors—fishing, hunting, crabbing. And he loved his boys—camping with them from the time they were about two years old. They were beginning to be involved in sports and he en-joyed being there with them. He even got to help coach their flag football team this past fall. To complete a picture of Mike you would need to know that he made the best barbecue ribs, could train hunting dogs and worked to have the greenest grass in the neighborhood.

He is survived by his wife of fifteen years, Karena, two six year old sons Robbie and Sean, brother George III, (sister-in-law Katy and nieces Rebecca, Caroline and Ava), his parents George and Marilyn Clemes and his grandmother Suzanne Montague of Greensboro, North Carolina.

Visitation is at Lee Funeral Home Calvert, Owings, Maryland on Wednesday, January 27th from 5-8 pm. The Funeral Service is Thursday, January 28th at 11 am at Grace Evangelical Presbyterian Church in Davidsonville, Maryland. Interment with full military honors is at the Maryland Veterans Cemetery in Crownsville, Maryland at 1:45 pm on Friday, January 29th.

In lieu of flowers, donations may be made to the Wounded Warriors Project, American Cancer Society or Calvert County Hospice. Arrangements provided by Lee Funeral Home.