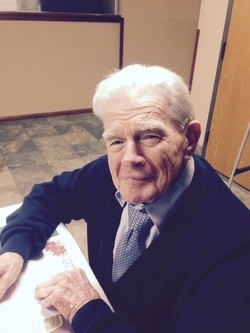 Robert Brady Earhart, 94, of Hollywood, MD passed away Wednesday, January 20, 2016 at Charlotte Hall Veterans Home in Charlotte Hall, MD. Robert was born on January 10, 1922 in Columbia, SC to the late William Tallie Earhart and Essie Black Earhart.

Robert proudly served in the United States Navy as an Aviation Machinist's Mate until his retirement in June 1961. During his service, he earned the Navy Occupation Service Medal, United Nations Service Medal, Korean Service Medal, and Good Conduct Medals (5).

After retirement, he was employed as a government support contractor and later as a self-employed painter. He enjoyed working on projects and tinkering. He was always eager and happy to help family and friends with anything they needed. When he resided in South Carolina, he lived on a small farm and spent many hours happily working the farm. He raised beautiful vegetable gardens and was an avid fisherman. He built his own barbeque pit, even manufacturing his own hickory coals and was known for hosting memorable barbeque gatherings. His greatest love was for his family, especially the young children whom he loved to spend his time with.

Robert is preceded in death by his wife, Myrl Marie Holland formerly of Milton, Fla. He is survived by his brother, Montieth Earhart of Lexington, SC and his children, Bobby Wayne Earhart (Deanna) of Hollywood, MD, Ellen Marie Howe (James) of Hollywood, MD, Linda Tudder (Bruce) of Hollywood, MD, and Wesley Brady Earhart of Aiken, SC; 11 grandchildren; 23 great-grandchildren and 2 great-great grandchildren. In addition to his parents and wife, he is also preceded in death by his siblings, Lilliane Lacon, Leona Knight, Earnest Earhart, Hiawatha "Dink" Earhart, Coalie Earhart, and Kenneth Earhart.

Family will receive friends on Thursday, January 28, 2016 from 5:00-8:00 p.m., at Brinsfield Funeral Home, P.A., 22955 Hollywood Road, Leonardtown, MD. A Memorial Service will be celebrated by Reverend Joe Orlando at 7 p.m. Interment will be held at a later date at Beulah United Methodist Church Cemetery in Gilbert, S.C. In lieu of flowers, memorial contributions may be made to Charlotte Hall Veterans Home, Charlotte Hall, MD. Arrangements by the Brinsfield Funeral Home, P.A., Leonardtown, MD.