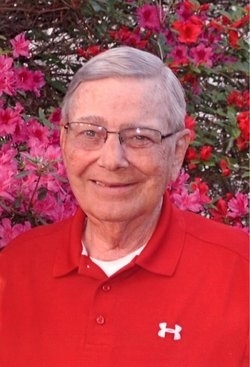 Wilbur Howard "Bill" Kirby Jr., 75, died peacefully after a long battle with prostate cancer on January 16, 2016 at Georgetown University Hospital with his family by his side.

He was born January 13, 1941 at City Hospital in Baltimore to the late Wilbur H. Kirby, Sr. and Catherine Hughes Kirby. He spent the first 12 years of his life at 1229 Leeds Terrace, Arbutus, MD. He would often recite this address when asked about his childhood. His memories of those years are of a close knit neighborhood and playing baseball with the older neighbor boys (they let him stand in the outfield).

Bill and his parents moved to St. Mary's County in 1953 when his father started working for the Kirby Motor Company. He attended Great Mills High School in the 7th through 11th grades. He graduated from the Charlotte Hall Military Academy in 1959. He also attended St. Mary's College briefly before heading to Florida to attend a baseball training camp. He spent some time pursuing a career in baseball however he eventually had to get a real job.

He went to work for the First National Bank until November 1963 when he enlisted in the Army. He was stationed at Fort Bragg and trained in crypto repair. He was deployed to the Dominican Republic as part of the U.S. response to an uprising and was honorably discharged in November 1966.

He began working at the Naval Air Test Center as an Electronics Technician. His position involved managing test flights on the Atlantic Test Range. He retired from the government after 30 years. He then went to work for Wyle as a Logistician for 9 years.

Bill married his wife, Linda Abell, on May 2nd 1970 and they have three children, Ellen Young (Tony) of Leonardtown, Patricia Schmalgemeyer (Chuck) of Hollywood and Bill, Jr. of California. He enjoyed his family life and his role as a husband and father. When grandchildren (Claire, Nathan, Joey and Ben) came around, he enjoyed being a grandfather.

His early years as the "outfielder" for the older boys in Arbutus started a lifelong love for the game of baseball and almost any game with a ball in it. It began with baseball and from there went to playing soccer, basketball and football throughout his high school years. He pitched for several local championship teams in high school and as a young adult. After school there was bowling, volleyball, involvement in his kid's sports teams, fishing, shooting pool for Toot's and finally golf.

The friends he made throughout the years in his sporting activities enriched his life, especially the people he golfed with at Breton Bay. They were his golf family. He loved sports, not just for the competition, but for the camaraderie. He like to win, but he also liked to watch good competition even when he was not the one competing. He loved knowing the rules of the game as much as the game itself. He always rooted for the Baltimore teams, The Orioles, the Baltimore Colts and the Ravens. In his later years, Bill had to find less active hobbies so occasionally he, Linda and Bill Jr. would take a trip to Dover to try their luck at the slots. It was win some, lose some but he always enjoyed it.

There are many things that Bill left his wife, children and grandchildren that are not material. His humor, sharp wit, guidance and love will be cherished by his family for the rest of their lives.

Bill's family would like to thank everyone for all the prayers, thoughts and good wishes received throughout his illness. They meant so much to him and to the family. They would also like to thank Dr. Chhabra and his medical staff for the many years of compassionate care.

Family will receive friends on Thursday, January 21, 2016 from 5:00-8:00 p.m., with prayers recited at 7:00 p.m., at Brinsfield Funeral Home, P.A., 22955 Hollywood Road, Leonardtown, MD. A Mass of Christian Burial will be celebrated by Reverend Eamon Dignan on Friday, January 22, 2016 at 10:00 a.m. at St. John Francis Regis Catholic Church, 43950 St. John's Road, Hollywood, MD 20636. Inurnment will follow in the church cemetery.

Honorary pallbearers will be his grandchildren, Claire E. Young, Nathan K. Schmalgemeyer, Joseph A. Young and Benjamin A. Schmalgemeyer. Memorial contributions may be made to Hollywood Volunteer Rescue Squad, P.O. Box 79, Hollywood, MD 20636, Hollywood Volunteer Fire Department, P.O. Box 7, Hollywood, MD 20636 and St. John Francis Regis Catholic Church, 43950 St. John's Rd, Hollywood, MD 20636. Arrangements by the Brinsfield Funeral Home, P.A., Leonardtown, MD.