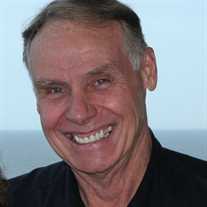 Edward Bailey Howlin, Jr., 79, loving husband, devoted father and grandfather, and hard-working businessman passed away on Monday, January 18, 2016 in Dunkirk, Maryland. He was born November 1, 1936 in Alexandria, Virginia. He graduated from Montgomery Blair High School in 1954 and received a degree in civil engineering from the University of Maryland in 1959.

After a short career with the District of Columbia building freeways and bridges, Mr. Howlin started his own business building houses in 1965. Over the course of 50 years, his business grew into prominent real estate development, real estate management, concrete, and construction supply companies.

On July 4, 1955 he met Lois Ann Wilson in Ocean City, Maryland and they married on August 6, 1958. Ocean City has always held a special meaning to them as it became the spot they chose for family vacations every summer, entertaining their many friends, and celebrating their 50th wedding anniversary in 2008.

In addition to a loving husband and devoted father, Ed took great delight in reading the Wall Street Journal, the Washington Post, and books from many genres; history and the Civil War were his favorites. Second to his love of family was his love of the outdoors. Mr. Howlin was passionate about the outdoors and spent much of his free time hunting with friends locally, in the Western U.S, and internationally.

Ed is survived by his wife of 57 years, Lois Ann Howlin, and children Chad H Howlin, Dawn Howlin Van Wie (Anthony Van Wie), Holly Howlin, Edward B Howlin (Donna Sappah), Cari Howlin Gustafson (Andy Gustafson), and Shay Howlin (Jeff Gruver), and by his 15 grandchildren: Michael Van Wie, Leanne Van Wie, Sarah Van Wie, Holly Van Wie, Jacob Howlin, Maria Van Wie, Jason Howlin, Andrew Gustafson, Anthony Van Wie, Jr., Mae Howlin, Anne Gustafson, Kate Howlin, Kieran Gruver, Abigail Gustafson, and Bracen Gruver. His parents Laura Mae and Edward Bailey Howlin, Sr. and his brother, John Lacy Howlin, Sr. preceded him in death.

Interment will be private. In lieu of flowers, memorial contributions may be made to Calvert Memorial Hospital in Prince Frederick, Maryland. Arrangements provided by Lee Funeral Home.