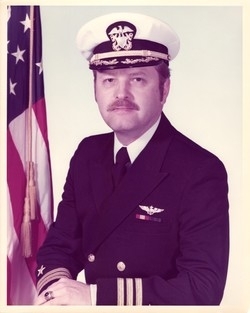 Stephen Nystrom was born on May 22, 1938 in Englewood, NJ to Axel Nystrom and his wife Marjorie Nystrom. Steve died at St. Mary's Hospital on January 15, 2016.

Steve graduated from the Naval Academy in 1962 and reports for the flight training receiving his "Wings of Gold" in 1963. His first tour was with Air Antisubmarine Squadron (VS) 31 Topcats, flying the S-2 Tracker where he earned over 100 carrier landings aboard the USS Wasp was the recovery ship for the Gemini space program and Steve flew spotter missions for Gemini capsules 4, 7 and 8. His next tour was a flight instructor at Pensacola, Florida. Steve said teaching new pilots was one of the most challenging, but rewarding parts of his flying career in the Navy. After a sea tour aboard aircraft carrier UUS Intrepid (CVS-11) as the Assistant Combat Information Officer, he reported to squadron VS-32 Maulers as Maintenance Office and Admin Department Head, later advancing to Wing 1 Safety Officer in Jacksonville, Florida. Steve then became Branch Head for all carrier-based Antisubmarine Warfare and training aircraft at the Naval Air Test Center in Patuxent River, MD, where he was also the Chief Test Pilot for the S-3 Viking.

He joined the Aeronautical Engineering Duty Officer community and was assigned to the Directed Energy Weapons program office 1981 in Washington, DC, as project manager for airborne laser systems for Naval Sea and Air Systems Command. Steve was responsible for the first destruction of an anti-ship cruise missile by an airborne laser weapon. His final tour was at the Space and Naval Warfare Systems Command where he was responsible for the initial deployment of a laser system aboard a U. S. Navy ship deployed to the Persian Gulf. Steve retired in 1988 after 26 years of faithful service supporting our country through Vietnam and the Cold War as an Antisubmarine Warfare aviator, instructor and test pilot, and helped usher in the new age of directed-weapon technology during the Strategic Defense Initiative in the Reagan Administration.

Following his naval career her served as Program Manager for SEMCOR. Steve and his wife Marianna are founding members of the Unitarian Universalist Fellowship of Southern Maryland, where he has served as Board Chair for two terms and taught Building Your Own Theology.

He is survived by: his wife of 53 years Marianna Nystrom and their two children, Kristen Nystrom Snyder (her husband Brandt Snyder) and David Nystrom ( his wife Saori Nystrom) and his two grandsons: Quinn Nystrom, Bryce Nystrom and his older brother Peter Nystrom.

In lieu of flowers, donations may be made to MedStar St. Mary's Hospital, Office of Philanthropy, 25500 Point Lookout Road, Leonardtown, MD 20650. Please indicate that the donation is for the Meditation Room Project.

Friends and family are invited to a Celebration of Life on January 30, 2016 from 2 to 4 p.m. at Ole Breton Inn, 21890 Society Hill Road, Leonardtown, MD. Steve's cremains will be interred with full military honors at Arlington National Cemetery at a later date. Arrangements by Brinsfield Funeral Home, Leonardtown, MD.