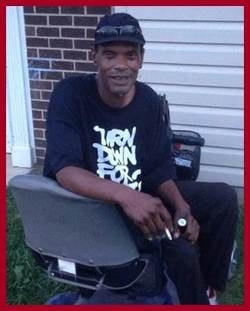 Bruce Darnell Owens, known as "BoBo" transitioned to his final resting place on January 9, 2016. He was born in Leonardtown, Maryland on April 21, 1963 to the late Joseph F. and Lillian L. Milburn.

He attended St. Mary's County Public Schools. He worked at Wendy's and various other jobs in the county.

Throughout the community he had made many friends in every walk of his life. He was known for his laugh and keen sense of humor. He enjoyed watching the Washington Redskins games and washing cars. His children Jerel and Ayanna were the pride and joy of his life. He was very fond of all his nieces and nephews. He enjoyed his outing with his friends Rhodie Stewart also known as "Poo Poo" and John Stewart.

He was preceded in death by his mother, Lillian L. Milburn, father, Joseph F. Milburn, Grandmother, Lucille Bennett, adopted father, Jesse Owens, daughter, Lakia Owens, brothers, Dennis Milburn, Dexter Milburn, sisters, Mary Ann Young, Ladeanae Smallwood, Melody McRae, Francis Milburn and Lolia Jean Dorsey.

Bruce leaves to cherish his memories, his beloved adopted mother, Alice Owens, his children, son, Jerel Owens, daughter, Ayanna Owens, sisters, Lillian Beander (Charles), Donna Milburn, Hope Milburn, brothers, Frederick Milburn, Vernon Milburn, Lord Milburn, William Milburn, and Thomas Milburn, God sister, Vivian Chew, Godson, Terrone Milburn and a host of nieces, nephews, family and friends.

Family will receive friends for on Tuesday, January 19, 2016 from 10:00-11:00 a.m., with a Funeral Service at 11:00 a.m. at Brinsfield Funeral Home, P.A., 22955 Hollywood Road, Leonardtown, MD. Interment will be held in Charles Memorial Gardens, 26325 Point Lookout Road, Leonardtown, MD 20650. Arrangements by the Brinsfield Funeral Home, P.A., Leonardtown, MD.