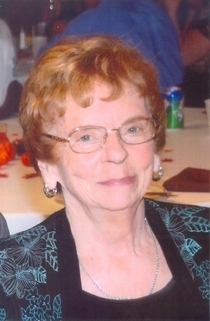 Helen Marie Gragan passed away on January 11, 2016 at the age of 80. Beloved by all, she is survived by her husband of 55 years, Aubrey Gragan and three sons, Samuel Gragan (wife, Darlene), Patrick Gragan (wife, Kristin) and John Gragan (wife, Connie). Helen was preceded in death by her oldest son, Joseph Gragan.

Helen has 12 grandchildren and six great-grandchildren; Heather Baxter (husband, Clint and children, Damian and Brooke), Scarlett Bland (husband, Ricky and child, Walker), Andrew Gragan (wife, Alicia and children, Caleb and Jackson), Kelly Gragan, Kyle Gragan, Kevin Gragan (fiancé Casey and child, Hunter), Jared Gragan, Joshua Gragan (fiancé, Nicki and her daughter, Peyton), Chris Gragan, Kelsey Gragan, Zach Gragan and Kolton Gragan.

Helen is also survived by her sister, Katherine Love. Helen was born the sixth of seven children. She is preceded in death by her parents, Lemuel and Louise Albrittain and her five older siblings; John Albrittain, Sydney Albrittain, Ann Campbell, Mary Louise Hall and Emmy Sue Dillon.

Pallbearers will be Helen's grandsons: Andrew Gragan, Kyle Gragan, Kevin Gragan, Jared Gragan, Josh Gragan, Chris Gragan, Zach Gragan and Kolton Gragan.

Helen was a teacher for over 40 years. She retired with the Charles County Board of Education and worked at Archbishop Neale School in La Plata, MD.

A Viewing will be held on Friday, Jan. 15, 2016 from 2:00 to 4:00 PM and 6:00 to 8:00 PM at St. Ignatius Church, Chapel Point (8855 Chapel Point Rd., Port Tobacco, MD). A Funeral Mass will be held on Saturday, Jan. 16, 2016 at 10:00 AM at St. Ignatius Church, Chapel Point. Helen will be laid to rest in the church cemetery immediately following the service. Memorial contributions can be made to St. Jude Children's Research Hospital (262 Danny Thomas Pl., Memphis, TN 38105). Family and friends are welcome to come for food and fellowship after the service at the Bel Alton Volunteer Fire Department in Bel Alton, MD. Arrangements provided by Arehart-Echols Funeral Home.