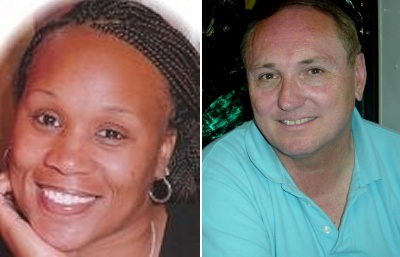 Funerals are scheduled for Tanya Mallard and Stephen Bunker on Saturday in Charles County. Both perished last Saturday when MSP Trooper 2 helicopter crashed in bad weather while transporting two patients. Mr. Bunker was the pilot and Ms. Mallard was an EMT on the flight.
LA PLATA, Md. (Oct. 3, 2008)—The Charles County Sheriff's Office and Maryland State Police are advising motorists traveling through White Plains, Waldorf, and areas north of Charles County on Saturday, Oct. 4 to expect significant traffic delays due to the funeral processions honoring Charles County EMT Tanya Mallard and MSP Helicopter Pilot Stephen H. Bunker who died in a helicopter crash last week.
Members of the CCSO Traffic Operations Unit, Maryland State Police, Charles County Volunteer Fire and EMS, and Prince George's County Police, with assistance from the State Highway Administration and other police and fire agencies, will coordinate traffic flow. Motorists can expect traffic at all intersections along the funeral paths to be stopped temporarily as the motorcade escorts the processions through the area.
Services for Ms. Mallard start at 9 a.m. at North Point High School, 2500 Davis Rd., in Waldorf. The funeral procession will start on Davis Rd. and travel to Berry Rd. to Middletown Rd. to Smallwood Dr. (passing Waldorf Volunteer Fire Station Co.12) to Route 301 north to Delaney Valley Memorial Gardens, 200 East Padonia Rd. in Timonium.
Services for MSP Helicopter Pilot Bunker start at 11 a.m. at South Potomac Church, 4915 Crain Hwy., in White Plains. The procession will travel north on Route 301 to Branch Ave. to the Capital Beltway to Pennsylvania Ave. to Cedar Hill Cemetery, 4111 Pennsylvania Ave. in Suitland.
In addition, the parking lot at South Potomac Church will be closed on Friday, Oct. 3 and Saturday, Oct. 4. Motorists who use the lot as a commuter parking lot should call MTA at 1-410-539-5000 or visit their Web site at
www.mtamaryland.com
for information regarding alternative parking sites and bus routes.
Governor Martin O'Malley is scheduled to attend both funerals.
RELATED INFORMATION:
Obituary for Stephen H. Bunker
Obituary for Tanya Mallard