The Latest Local News Headlines
What's Fun, What's Featured in St. Mary's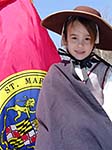 Maryland Day
Saturday, March 22, 2014
Celebrate Maryland's 380th anniversary at Historic St. Mary's with ceremony, pageantry, and fun! On Maryland Day, March 22, enjoy free admission from 10 a.m. to 4 p.m. Step onboard a tall ship, fly a kite with the colonists, visit an unordinary ordinary, and find out how archaeologists and historians learn about the past. Special ceremony at 1 p.m; kids' crafts all day long. 240-895-4990. CLICK HERE FOR MORE INFO!
The Great Big Home And Leisure Show

March 15th 10am - 6pm
March 16th 10am - 5pm
Capital Clubhouse
Waldorf, MD
301-638-SHOW
Special Guest Appearance by Ahmed Hassan of "Yard Crashers" at 11am & 2pm both days
Don't miss this great Spring event! A great opportunity to take advantage of show specials on thousands of Home and Leisure products and services. Over 100 exhibitors will be demonstrating their latest products and offering unbeatable show pricing under one roof. Don't miss out on this Great Big opportunity to get expert advice and save thousands of dollars on your next purchase for your home! EXHIBITORS call 301-638-SHOW or visit our website at http://greatbighomeshow.com for information!
Access our Forums from Your Mobile Device
Our community forums are the best area resource for emergency information so we now support Forum Runner and TapaTalk. Now you can be in touch no matter where you are!
Visit Our Churches & Worship Section
We've updated our Worship section to include an all new look, more information, and full search capabilities. If your Church isn't listed or requires an update, be sure to use the feedback form to let us know.
Community Photo Gallery!
Dig into your photo archive and post your best photos. Contribute to the most comprehensive, on-line community scrapbook for southern Maryland. Show off your hobby, post pics of the big playoff game or your last cool trip. Maybe you have a pic of the local landscape taken at the perfect moment. Show the rest of the world the things that make So. MD unique.