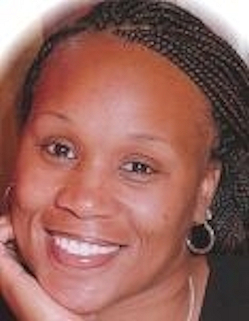 Tonya Michelle Mallard was born November 10, 1969 in Washington D.C. She went home on September 28, 2008, in a Medevac helicopter accident attempting to save the lives of two teenagers.

Tonya is survived by her husband Kenneth Mallard, her sons Julian Blair and Kenneth Mallard, her parents Stella Covert and Julius Brown, step-father, Vincent Covert and siblings Mark Mooney, Aisha Phillips and Julius Brown, Mother in Law Tina Mallard, Brother In Law's Damien Phillips & Jessie Mallard, Sister in Laws Patricia Jones and Lisa Mallard, 2 nieces Daisha Morris and Alex Jones, 3 nephews Matthew and Joseph Jones and Malcolm Mallard, and nine aunts, eleven uncles, Oscar (her dog) and many other relatives and friends.

Tonya's education started at Kenilworth Elementary in Washington D.C. In 1987 she graduated from Northwestern High School in Adelphi, MD. After high school, Tonya completed the necessary coarse work to become a Medical Assistant. At the time of her going home, Tonya had completed the Emergency Medical Technician Certification.

Tonya's professional career started at the Naval Annex in Arlington, VA. Although she didn't stay there long, this is where she met her future husband - Kenny. This past week they would have celebrated their 8th wedding anniversary (October 1st). Tonya's passion has always been helping people and making people feel better. Tonya worked as a Medical Assistant for several health care facilities in the D.C. metro area. She had a love for cosmetology and became the 'family and friend' beautician (even built a small salon in her basement).

With the birth of Kenny, Tonya became a stay-at-home mom and dedicated her life to her family. Tonya did more than just maintain a home. She became heavily involved in every aspect of her children's lives. She constantly called the schools, attended PTA meetings, was a Team Mom, and exposed her children to new experiences and broadened their minds. Tonya and Kenny had a special love for their niece Daisha. She is the daughter that they never had and helped Tonya 'balance the power' in their home.

Tonya was a wonderful neighbor, you would often find her talking with members of the community when she walked Oscar .

She loved to chat it up with women in the community in her kitchen. The Mallard home was always buzzing with activities.

When Kenny was old enough to attend school full time, Tonya's love for helping others compelled her to volunteer at the Waldorf Volunteer Fire Dept. EMS 12. Tonya's best traits were that she wanted to be on as many calls as possible and that she would help those in need with a comforting smile. Tonya was looking forward and working hard to become a full-time Emergency Medical Technician.

Spiritually, Tonya became a member of Lighthouse Baptist Church. As a child she gave her life to Jesus Christ and rededicated her life at Lighthouse Baptist Church. One of Tonya's and Kenny's last conversations was about Salvation. Tonya will be remembered as a wonderful loving mother, wife, daughter, sister, aunt, niece, godmother, friend, and HERO.

Her viewing will take place on Friday, October 3rd, 3:00-5:00pm and 7:00-9:00pm at Lighthouse Baptist Church, 3150 Middletown Road, Waldorf, MD 20603. Services will be held on Saturday, October 4th, 9:00am at North Point High School, 2500 Davis Road, Waldorf, MD 20603. Interment Dulaney Valley Memorial Gardens, 200 E. Padonia Road, Timonium, MD 21093.

In lieu of flowers, donations may be made to the Waldorf Volunteer Fire Department, EMS 12, 3245 Old Washington Road, Waldorf, MD 20602.

Arrangements provided by Thornton Funeral Home.