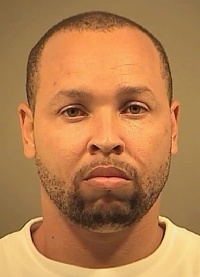 James Francis Swann, 32, of Reistertown, Md., was arrested for the Oct. 3, 2007 murder of 71-year-old Joseph Gilford Hickman.
LA PLATA, Md. (October 5, 2007)—Today, Charles County Sheriff's Office's detectives arrested James Francis Swann, 32, of Reistertown, Md., for the murder of 71-year-old Joseph Gilford Hickman.
On Wednesday, deputies responded to the 3300 block of Ryon Court in Waldorf for a report of shots fired. Upon arrival, deputies discovered Hickman lying on the front step of the residence with a gunshot wound to his chest. He was pronounced dead on the scene.
On Thursday, the Maryland Office of the Chief Medical Examiner performed an autopsy on Hickman and determined the manner of death was homicide and the cause of death was a gunshot wound.
Not long after the shooting, Sheriff's deputies stopped a vehicle exiting the neighborhood where the shooting occurred as they were responding to the the shooting. Police say the vehicle was owned by Swann.
Swann was questioned briefly by deputies that night and was released after deputies seized his vehicle.
Police say detectives and evidence technicians recovered ballistic evidence from the crime scene indicating the murder weapon was a .45 caliber handgun. A search of the nearby wooded area resulted in a recovery of a partial box of .45 caliber ammunition. Evidence technicians reportedly recovered latent fingerprints from the ammunition box. Police later matched the prints to those of Swann.
Charles County homicide detectives obtained an arrest warrant for Swann based on the evidence obtained from the crime scene. Swann was taken into custody when he came to the Sheriff's Office to recover his vehicle today.
According to police, Swann told detectives he did not intend to shoot Hickman.
Detectives are continuing to investigate the motive for the shooting.
Swann has been charged with first-degree murder, first- and second-degree assault and use of a handgun in commission of a felony. Swann will be held without bond at the Charles County Detention Center.
RELATED INFORMATION:
Charles Police Now Looking For Second Suspect in Waldorf Murder
, Oct. 9, 2007