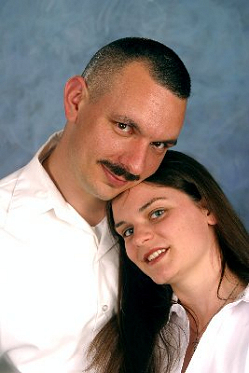 Lauren Wegman of Bear, Delaware and Tony Slead of Rialto, California were married on Saturday, December 13, 2003 in St. Nicholas Chapel, NAS Patuxent River. The bride is the daughter of Robert Dale and Elaine Wegman. The groom is the son of Dennis and Sandy Slead.
The newlyweds spent their honeymoon in a western Caribbian cruise.
Tony and Lauren met at the Lexington Park Volunteer Rescue Squad. They got engaged on April 16, 2003 on Solomon's Recreation Center. The wedding party will include Deanna Wegman (Lauren's sister) as the Maid of Honor and Fred Crum (Tony and Lauren's friend) as the Best Man. Amber Tully (Tony and Lauren's friend) and Ton-ya Slead (Tony's daughter) will be the Bride's attendants. Ray Chouinard (Tony's uncle) and CP Hochrein (Tony's cousin) will be the Groom's attendants. The reception will be held at the Lighthouse Inn on Solomons Island.