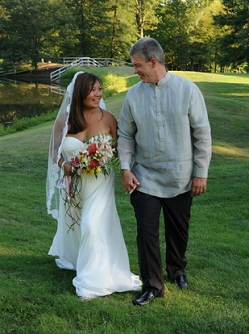 Isabelle DeLeon Balakit of Waldorf, Maryland and James Monroe McDaniel of Springfield, Virginia were married on Sunday, August 31, 2008 in Atlantic Golf at Potomac Ridge, Waldorf, MD. The bride is the daughter of Macario & Catalina Balakit. The groom is the son of Harley McDaniel & Lucille Morris.
Pastor Mariano Gabor united the loving couple in marriage in a modern filipino-style wedding performing the ring, coin, veil & cord, and unity candle lighting ceremonies witnessed before families and friends. The tropical scene ceremony was captured with an alter made of real bamboo designed with tropical flowers surrounded with decorated bamboo tiki torches created by Christopher Adams and Michael Fernandez. The Bride was presented in marriage by son, Christopher Adams and the Groom presented his mother, Lucille Morris. Special rememberance prayers for Catalina DeLeon Balakit and Harley McDaniel.
The Bride wore a simple and elegant organza dress by Davids Bridal. The Groom and Best Men John McDaniel, Richard Morris, and Robert Morris; and groomsmen Andrew Roberts, Michael Fernandez, and Christopher Adams all wore traditional barongs. The Maid of Honor was Mariby Corpening; and Bridesmaids Cathy Horner, Rosalind Trapp, Sharon Thomas, Michelle Garcia, and Bernadette Higgins all wore traditional sarongs and carrying white parasols. Wedding party also included: Flower girls Naomi Roberts, Jordan M. Fernandez, Trinity Morris, and Rileigh Morris; Ring bearers Teodoro & Patricia Ortiz; Candle bearers Christian Ortiz & Mallorie Morris; Coin bearers Rico & Hazel Balakit; Veil & Cord bearers Michael & Melanie Balakit; Readers Carlene Roberts & Carmela Ortiz and Macario Balakit Jr., & Mitchell Balakit; Attendants Joel & Beth Fernandez, Erika Dyer, Ian Higgins, and Maimouna Traore; and Violinist Jennifer Hicks.
Special thanks and recognitions to Cathy Horner who created and designed the Brides tropical bouquet and corsages; Mariby Corpening who created a memorable picture collage of the Bride & Grooms journey; and, Broomes-Howard Inn located in St. Marys County for their warm B&B services.
Special thanks to wedding planner, Marissa Gigantana-Collado and close friends who beautifully decorated and orchestrated the ceremony and reception into a tropical oasis. Many thanks to Manny Lopez, photographer, who captured the beauty and excitement of the wedding. Warmest thanks to Pastor Mariano Gabor of Filipino-Christian Center for his kindness, blessings, and life lessons of marriage. And a special thank you to Bob Busch, manager at the Potomac Golf Course for his patience and wonderful services from beginning to end.
A tropical luau reception was held at the golf course pavilion with the assistance of Bob Busch and crew. The delicious filipino foods and whole roasted pig were catered by Merly Eda & staff of North Star Catering, and the exotic wedding cake by Desserts by Gerard, both located in Oxon Hill, MD. The music and DJ was performed by Reggie Eda, who also provided the moon bounce from Oxon Hill Rental. Special filipino dances were performed by Marissa Wallis and family of Mabuhay, Inc. Limousine provided by Diamond Limousines.
Honeymoon plans are postponed until next year to exotic island destinations. The happily married couple will reside in Waldorf, MD.