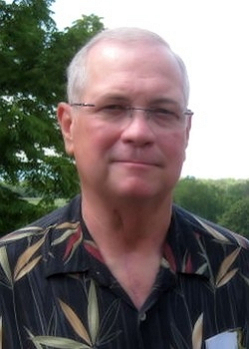 Martin Newsham "Marty" Webber, 62 of Lexington Park, MD died May 31, 2013 at his residence.

Born September 2, 1950 in St. Petersburg, FL, he was the son of the late Julian Taylor Webber and Florence Grace Newsham Webber.

As a young man, Marty Webber lived the life of a vagabond. Between attending the University of South Florida and an epic hitchhiking adventure from his home state of Florida to the Colorado Rockies, he skipped into and out of a variety of gigs including; dog catcher, truck driver, finish carpenter for luxury sailboats, and bridge construction worker navigating narrow catwalks 100 feet above Tampa Bay. His future father-in-law however required steady employment as a precondition for marrying his daughter, so at the ripe old age of 25, Marty joined the Navy.

For someone with a self-admitted aversion to authority, he found his unexpected niche in life as a member of the S-3 Viking ASW community. Marty always said his time spent working on the flight deck of the U.S.S. John F. Kennedy during two 9-month deployments was the most exciting thing anyone could ever hope to do. He made life-long friendships and after serving 6 years, spent the next 25 years as a civilian involved in the S-3 community until the last squadron was decommissioned in 2009. At that time Marty began a new chapter in his career working with the Marine Corps CH-53 helicopters.

In his free time, Marty devoted himself to the fine art of grilling. He eschewed gas grills, insisting that the only true barbeque came from charcoal , with a little hickory wood for flavoring. He believed that a bad day fishing was preferable to a good day doing almost anything else. He gave golf a good effort, and always made sure he brought enough balls to finish at least nine holes.

His greatest joy was his four children. Marty was a wonderful father, and would humbly claim that his children were such exceptional people, not because of him, but in spite of him. Nothing could be further from the truth. When he became a grandfather, he was over the moon in love with his grandchildren, and constantly encouraged more babies.

The one true love of his life however was his wife Connie. For 37 years, they shared a passionate love and deep devotion that never faded, but only grew stronger as time went by.

All who knew and loved him will miss him forever.

Family will receive friends for Marty's Life Celebration on Wednesday, June 5, 2013 from 5:00 to 8:00 p.m. at the Brinsfield Funeral Home, 22955 Hollywood Road, Leonardtown, MD 20650. A Funeral Service will be celebrated by Minister Adam Tune and Pastor Earl Johnson on Thursday, June 6, 2013 at 11:00 a.m. at the Church of Christ, 44850 St. Andrew's Church Road, California, MD 20619. Interment will follow in Charles Memorial Gardens, Leonardtown, MD.

Arrangements by the Brinsfield Funeral Home, P.A., Leonardtown, MD.