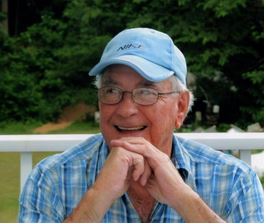 Raymond Eldridge Fowler, 96, of Prince Frederick, MD passed away on January 12, 2022 in Prince Frederick, MD. Raymond was born on November 24, 1925 to Fayette and Lydia Fowler. Raymond was a lifelong resident and business owner of Calvert County. He had a vast knowledge and interest in restoring automobiles and in the 1960's opened Calvert Body Works in Prince Frederick, MD and had daily involvement with the business for over thirty years. This business still in operation has made many people satisfied and happy through the years and many vehicles on the road.

Raymond was predeceased by his parents, his children, Raymond E. Fowler, Jr., Joyce A. Fowler, and Jimmy Fowler. He is survived by his children, Gerald T. Fowler, of Lusby, MD; Theresa M. Cranford, of Huntingtown, MD; Richard W. Fowler, of St. Leonard, MD; and Donald B. Fowler, of Huntingtown, MD. He is also survived by 10 grandchildren and 6 great grandchildren.

The family will receive relatives and friends on Saturday January 15, 2022 from 10-11 am at the Rausch Funeral Home, 4405 Broomes Island Rd., Port Republic, MD 20676. A funeral service will follow at 11:00 am. Interment will follow the service at St. Paul's Episcopal Cemetery in Prince Frederick, MD.