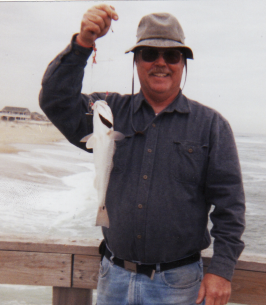 Russell was born on May 25, 1947, the second son of Edgar Poe Millar and Ruth Mabrey Adams Millar in La Plata, Md. He was preceded in death by his infant sister, Carol Jean Millar and his brother, Douglas Millar. He is survived by his wife of 45 years, Linda Graff Millar, his children, Robert Millar (Pam), and Cara Bean (Scottie). He is also survived by 5 grandchildren, Samantha Tippett (Ryan), Collin Millar, Kevin Bean, Erin Bean, and Lindon Berkley Bean. Along with 2 step grandchildren: David Thompson (Alicia) and Kayla Bean. As well as 2 great-grandchildren, Jaxon Goddard, Carsyn Tippett. Also, 2 step-great grandchildren: Remingtyn Slaughter and Ryder Thompson. He is also survived by his brother Michael Millar and many loving nieces and nephews. He embraced his brothers and sisters in –law with all his love.

Russell graduated in 1965 from Lack High School in Indian Head, Md. In 1967 he graduated from Charles County Community College and then attended Towson University in Baltimore. He went on to pursue a career with Pepsi-Cola Bottling Company in La Plata as a Service Technician.

In 1977 he was President of the Optimist Club of La Plata and loved to be the Santa helper each Christmas. In 1979 he moved his family from Charles County to St. Mary's County and remained there where he became very active in community service. He was a Life Member of the Optimist Club of Hollywood and held the Office of President and Chairman of the Bay Country Boat show for many years. He was a member of the Hollywood Moose Club and he was also a member of the Southern Maryland Recreational Fishing Organization (formerly MSSA). He helped create the ROMEO Club (Retired Old Men Eating Out!) and really enjoyed the socializing portion of all meals.

Fishing was his passion and didn't miss any chance he could get to be out on the water; either by himself or with friends. Linda had to ask him to leave her a note on where he was going to be fishing so she would at least know which river to look in if he didn't come home! He passed his love of fishing and being on the water to his children and grandchildren and loved to take them out in "Granddaddy's Boat". His fishing rod and reel collection is the cause of much amusement among his family and friends. His only regret was that his declining health prohibited him from pursuing his passion in the last few years.

Russell was a loving and caring man who adored his family and loved to throw a big party for all the extended family and friends that he knew. The parties often had 75 or more people wandering around the house and yard! Cooking crabs and roasting a pig were often included on his menu for the day. You didn't want to get behind him in a buffet line because it was often said that he didn't eat to live but he lived to eat!
On many vacation trips he loved to rent a Harley in whatever State he happened to be visiting and just ride to nowhere for the day.

He will be greatly missed but we are sure he has joined old friends at a heavenly river full of his favorite Rock Fish. We take comfort in his new peace and tranquility.

A small visitation will be held on Tuesday, June 30, 2020 at the Mattingly Gardiner Funeral Home in Leonardtown from 9:30 AM to 10:30 AM where a Funeral Service will be held at 10:30 AM in the Funeral Home Chapel with Rev. Catherine Gibson officiating. Interment will be at Old Durham Christ Church Cemetery in Nanjemoy, MD at 12:00 noon the same day. Honorary pallbearers are Robert Millar, Scottie Bean, Ryan Tippett, Collin Millar, Jaxon Goddard and Kevin Bean.Any one wishing to make a donation in his name can do so the Hospice of St. Mary's., P.O. Box 625 Leonardtown, MD 20650.