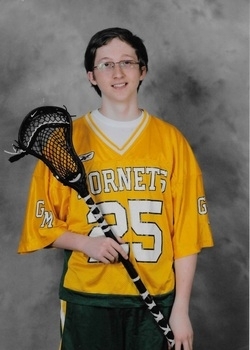 Dane Alexander Wyatt, 17, of Lexington Park, MD passed away on July 7, 2017. He was born May 25, 2000 in Leonardtown, MD to Jason Chandler Wyatt of Ridge, MD and Cheryl Naser Wyatt of Lexington Park, MD.

Dane was a son, a brother, a friend, and foremost a great young man. There is no way to fully encompass his impact on the lives of those around him, but hopefully this will give you some semblance of who he was. He had so many friends and maintained those close friendships throughout the years. Dane was a fiercely loyal and honest person, and the strength and longevity of his close friendships attest to this. He was known in his group for jokes and creating laughter and acceptance with whoever he was with.

He was truly an excellent friend and overall a caring and loving person. His favorite past time was online gaming. He and his friends would spend hours a day online yelling, cursing and laughing as teenage gamers tend to do. In addition to online gaming, he also was a part of the Great Mills Lacrosse team during his sophomore and junior years. He truly enjoyed his time playing with his teammates. He was seventeen years old and going into his senior year at Great Mills High School.

To his parents, he was the world. He was an excellent son, and always strived to let his family know he loved them with all his heart. He always hugged hello and goodbye. He blew kisses to his mother from the window. He was their love bug and was not afraid to snuggle with Mom even into his teenage years. He also kept them laughing with his playful one liners and rascally remarks at the dinner table. He was his mom's IT guy and "Monkey Boy" when she needed something from the top shelves. He readily climbed up to get it and eventually just reached for it smiling as he towered over her.

He loved the family pets and always showed them great affection and care. He would often have "Grub" or "Muggins" on his lap as he played games and laid with "Buddy" to calm him with the recent July 4th fireworks. In his brother Chandler's life, Dane was the greatest childhood friend and brother he could have asked for. Laughter and playful annoyance followed him and his antics made growing up with him a cherished experience.

Chandler was only his brother for a short time as before that, he was Dane's sister. Dane was the first in his family to fully accept Chandler for who he really was, his brother. Though they will not grow old together, Chandler is thankful for the time he did get to spend with him. Dane's legacy of acceptance and unwavering love will follow Chandler forever. Dane's life was far too brief. He had a bright future that was cut short by the tragic accident that claimed his life. I hope this has brought you closer to our boy and made you smile as he so often did for us. Hug your children daily, engage in their lives, allay their fear and most of all give them unconditional love.

In addition to his beloved parents, Dane is also survived by his brother, Chandler C. Wyatt; his aunts, Tammy Dille of Washington, PA and Lori Allum of Prosperity, PA; his uncles: Dale Naser of Prosperity, PA, Frank Wyatt of Ellensburg, WA and George Wyatt of Ellensburg, WA; and many extended family and friends. He is preceded in death by his grandparents.

Family will receive friends on Thursday, July 13, 2017 from 4:00 p.m. to 8:00 p.m., with a Service of Remembrance and Celebration of Life at 7:00 p.m., at Brinsfield Funeral Home, 22955 Hollywood Road, Leonardtown, MD 20650. Interment is private. Memorial contributions may be made to St. Mary's River Watershed Association, P.O. Box 94, St. Mary's City, MD 20686. Arrangements by the Brinsfield Funeral Home, P.A.