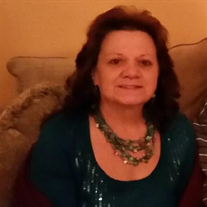 Deborah Mae "Debbie" Gilroy, 58, of Indian Head, Maryland died June 9, 2017 at George Washington University in Washington, DC. Debbie was a life-time resident of Charles County and a member of St. Mary Star of the Sea Catholic Church in Indian Head, Maryland. She loved her dogs, Beanie, Harley and Gigi. She enjoyed going shopping, taking care of her family and her home. She was most known for making people laugh and loved her job at Gray Brothers Deli in Marbury, Maryland.

She was the daughter of Joseph Tompson, Jr. and Helen Turrell Thompson. She is survived by her beloved companion, William C. "Gruff" Grinder; her sons, Russell Wayne Gilroy and wife Corine and Neal Rex McElhaney, IV; her daughter, Amanda "Mandy" Gilroy Thompson; her brother Joseph L. "Joey" Thompson and wife Patricia; her sisters, Bonnie Croston, Candace "Junie" Elder and husband Ronald, and Barbara Jean Hurlbert and husband Steve; her grandchildren, Tyler, Deontez, Kira, Jonathan Jr., Carly, Mercedez, Jordan, Hunter, and Kaytlin; and her great-granddaughter, Paisley.

Friends received on Thursday, June 15, 2017 from 5PM until time of Wake Service at 7PM at Raymond Funeral Service Chapel, 5635 Washington Avenue, La Plata, Maryland 20646. Interment at a later time and date at Sacred Heart Catholic Cemetery in La Plata, Maryland with her mother. Memorials, towards funeral expenses, to Raymond Funeral Service, PO Box 422, La Plata, Maryland 20646. Arrangements by Raymond Funeral Service.