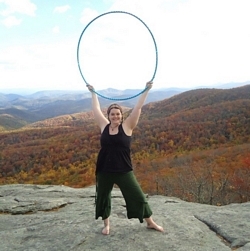 It is with broken hearts that we announce the passing of our beloved Erin, a.k.a. Erin Greenheart. Erin was born in Wilmington, NC, and grew up there and in Lusby, MD. She graduated from Patuxent High School, spending her last year as an exchange student in Chile where she became fluent in Spanish.

Erin attended Ramapo College in New Jersey where she met her future husband, Alex. She earned a bachelor's degree in Law and Society and worked for several years as a paralegal. Erin and Alex moved to Asheville, NC where she attended the Asheville School of Massage and Yoga, becoming a licensed massage therapist.

Erin was a larger than life presence with an infectious laugh and a smile for everyone. Among her many loves and passions were music, gardening, massage, tattoos, environmental issues, human rights, and the legalization of marijuana. Above all else she loved her dogs, Ollie and Sadie.

Erin is survived by her husband, Alex Bryantsev, mother, Sarah Torell, father, Steve Smith (Sheila), brother, Tyler Torell Smith, parents-in-law, Igor and Raisa Bryantsev, paternal grandparents, Bruce and Katie Smith, maternal grandmother, Jane Torell, sisters-in-law, aunts, uncles, cousins, and countless friends whom she considered family.

Cremation has taken place at Asheville Area Alternatives. We all feel the devastating loss of Erin's sweet and loving presence in our lives.