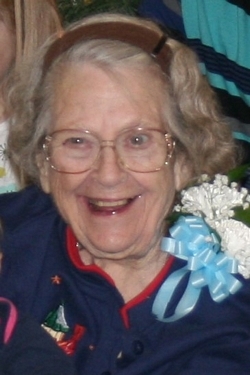 At the age of 93, Elizabeth "Betty" Beryl Tavenner went home to be with her Lord on Saturday, April 8, 2017. She was preceded in death by her husband Charles Welby Truman Tavenner and her daughter Betty Lou Tavenner.

She is survived by four children, Charles Truman "Butch" Tavenner and wife Kathy, Margaret Elizabeth Adams, Jerry Eugene Tavenner and wife Leslie and John Morrison Tavenner and wife Marie, grandchildren Nicholas, Carlos, Freddy, Betty Lou, Jerry "JET", Christina, Welby and Jana, great-grandchildren Matthew, Christopher, Emily, Jacob, Hannah, JT, Dexter, Kevin, Jessalyn, JoJo, Jaiden, Jude, Jacob and Riley and one great-great-grandchild.

Betty was a founding member of Emmanuel Baptist Church in Huntingtown and Bayside Baptist Church in Chesapeake Beach, where she was still an active member. During her 20 years as a foster parent, Betty fostered 50 children. Arrangements by Rausch Funeral Home.