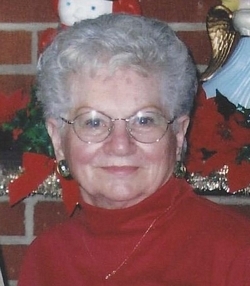 Aileen Hutchins Matteson "Eileen", 87, of Prince Frederick MD died peacefully with her family by her side on March 3, 2017 Cumming, GA. She was born Aileen Anna Hutchins on July 3, 1930 in Prince Frederick, MD in Calvert County's original Hospital on Church Street. Her mother, the late Hazel Wood Hutchins, and her father Maurice Hutchins where so very dear to her heart.

In the 1940's, her first job was as a cashier at Goldstein's Department Store on Main Street in Prince Frederick, MD. This is where she met the love of her life Harold Matteson Jr. They were married in Prince Frederick, MD September 15, 1947. She graduated High School in Prince Frederick, MD in 1947. Also a graduate of Prince George's County Community Hospital, where she received her license in 1969, to be a Licensed Practical Nurse and worked at Calvert Memorial Hospital. Later, she became employed by Calvert County's own, good ole hometown doctor, Dr. George Weems of Huntingtown, MD. She also graduated from Barbizon Modeling School in 1975 and was featured in many fashion shows throughout the state of Maryland for her poise and beauty.

She was a member of Full Gospel Assembly of God Church in Prince Frederick, MD for 70 plus years. She served her LORD and Savior Jesus Christ while supporting her husband Harold Matteson Jr.'s many positions of leadership in the Church, and lovingly raising their five children under the guidance of The Holy Spirit. She cherished spending time with her children, and her grand and great grandchildren.
She delighted in taking long walks on the beach. Another talent she enjoyed was painting. She delighted in gardening.

She was preceded in death by her husband Harold Matteson Jr., and her son Anthony W. Matteson Sr. She is survived by daughter Carole A. Matteson of Prince Frederick; Robert and Pam Matteson of Port Republic; Marilyn and Bruce Biesel of Port Republic; Hutch and Cindy Matteson of Cumming, GA; Brother Chester Hutchins of Prince Frederick, MD; Sister Shelva Ogden of Port Republic; and her Sister the late Delores Hutchins; and Brother the late Maurice Hutchins, both of Prince Frederick, MD. She is also survived by 12 grandchildren, 15 great grandchildren, 2 great-great grandchildren, nieces, nephews other relatives and numerous friends.

The family will receive friends March 9, 2017 at Full Gospel Assembly of God Church in Prince Frederick, where funeral services will be celebrated March 9, 2017. Pastor William Davis officiated the service. Interment followed at Asbury Cemetery in Barstow. Pallbearers are Anthony W. Matteson Jr., Michael Matteson, Tristen Matteson, Johnny Matteson, Kevin Matteson, Paul Powel Jr. Honorary pallbearers are Hutch Matteson, John Bruce Biesel and Duane Chapman. Memorial contributions may be made to Full Gospel Assembly of God Church. Arrangements were provided by the Rausch Funeral Home in Port Republic.