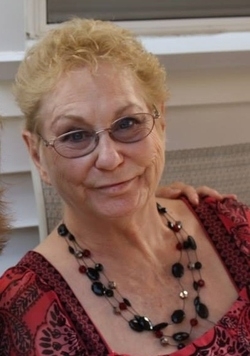 Carroll Cecil Woods, 77, of Avenue, Maryland passed away December 30, 2016 at home surrounded by her loving family. Born January 4, 1939 in Washington, DC, she was the daughter of the late Arthur Beall Cecil, Sr and Mary Carroll Cecil. In addition to her parents, her beloved brother Arthur Beall Cecil, Jr. predeceased her. She attended St. Bernadette Primary school, followed by Our Lady of Holy Names. She received an Associates of Science degree in Business and worked for many years in accounting.

Carroll, or "Nema" as she is known by her grandchildren, found great joy in all things beautiful and cherished love of family as the greatest of these beauties. She was a Broadway musical enthusiast, a skilled flower gardener and a gifted cook. On September 9, 2006, Carroll married her beloved husband, James Anthony Woods, 1st Sgt USMC ret. Together they celebrated over 10 wonderful years of marriage as they shared in their love of music and travel.

Carroll cherished her Maryland heritage with ancestry dating back to the colonies. She valued her proximity to historical monuments while living in both Frederick and St. Mary's County, MD. She passed on her love of blue crabs and sweet corn to her children and grandchildren, now a family tradition. Her garden overflowed with hearty herbs, vegetables and day lilies of all colors. Wherever she went, she brought beauty, grace and joy into the lives of others.

In addition to her husband, she is also survived by her daughter, Lauretta Webb Godbey of Frederick, MD, sons Robert M. Webb of Frederick, MD, and Arthur C. Webb (Eleanor) of Clarksburg, MD; her granddaughters, Kristen (Nathan) Rix, Brittany (Andrew) Puccio, Lisa Webb, and Amy Webb; four step-children, Donna (Bob Lindblad) Brown of Potomac, MD, Diana (Bryan) Williams of White Plains, MD, and David (Tara) Woods of Augusta, GA; thirteen step-grandchildren and two great step-grandchildren. Along with her parents and brother, she is also predeceased by her step-son, Raymond Woods.

Services are at 11:00 am, Saturday, January 7th at St. Mark's Episcopal Church, 12700 Hall Shop Rd, Highland, MD 20777. Memorial contributions can be made to Hospice of St. Mary's County. Arrangements by the Brinsfield Funeral Home, P.A.