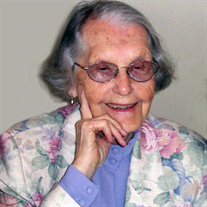 On Tuesday January 26, 2016 Dorothy "Eloise" Buckler Tippett departed this earthly home to join her husband Wilfred Townsend Tippett Sr. "Pop", son Wilfred T. Tippett Jr. "Freddie", and daughter Nina Tippett Rose. Eloise was born May 2, 1912 to Maurice and Sarah Hall Buckler and raised on Dares Beach Farm in Calvert County (Call-vert), Maryland.

She graduated with a teaching degree from Towson and furthered her education at the University of Maryland. While in college she met her husband of 53 years, Wilfred, they married on June 22, 1936. After graduation she began her career teaching in a Hollywood, MD schoolhouse then continued throughout Southern Maryland, before finishing her career at Brandywine Elementary School in 1974.

After retiring, she enjoyed spending time at her beach house in South Bethany, gardening, bird watching, playing cards "pitch" with her close friend Genevieve and Genevieve's family – all the while keeping up with everything political. Her most treasured time was spent with her family. She attended Cheltenham United Methodist Church and was a member of the Order of The Eastern Star Chapter 61.

She had a home built in Cheltenham where she lived for more than 50 years. Her home is the centerpiece for family gatherings where many memories have been created over the years. Her home was always filled with love, warmth and openness. She spent countless hours working in her gardens and preparing meals so she could entertain friends and family. Throughout the years countless songs were played on the piano in her living room, many great-grandchildren were rocked to sleep, and great conversations were had. She enjoyed attending the Townsend Family Reunion, where she was able to visit with many of her extended family members and friends.

Eloise's legacy of care, love, feistiness, and determination, talkative, dedicated, loyal, independence, always sure to praise the accomplishments of her family, inquisitiveness, knowledge and understanding will be passed along for many generations. She was affectionately known as "Nanny" to many, and was an amazing woman who cared very much for her family. Her family will treasure the time they had with her and hold on to the many things she taught them. Her son-in-law Kenneth S. Rose Sr., visited with her daily and they watched many hours of Fox News together during dinner.

When Nanny wasn't visiting with her family in person, she enjoyed talking on the phone for hours at a time with her seven grandchildren: Wilfred T. "Tal" Tippett III (Nancy), Stephen M. Tippett Sr. (Shannon), Kenneth S. Rose Jr. (Dana), Christian H. Rose (Jackie), N. Michelle Rose, Philip A. Rose (Shawni), and Matthew R. Rose (Kimberly); 15 great grandchildren: Wilfred T. Tippett IV "TJ", Brittany Tippett, Meghan A. Rose, Gabriella V. Villalon-Rose, Danny Burns, Kaulin A. Rose, Julia C. Rose, J. Nino Rose, Noah E. Rose, Emilia N. Rose, Emily G. Rose, Stephen M. Tippett Jr., Charley P. Tippett, Nathan R. Rose, Kaylie I. Rose; and a host of nieces, nephews, cousins, adopted family and dear friends, including Rodney Duley.

Donations to St. Jude Children's Hospital (www.stjude.org) are appreciated. Nanny had a special place in her heart for children affected with cancer and was a long time supporter of St. Jude Children's Hospital. Arrangements provided by Lee Funeral Home.