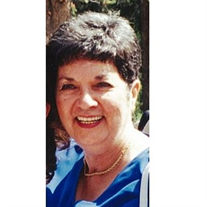 Barbara Carol Lueders, 77, of Rockville, MD formerly of Waldorf, MD died on January 14, 2016 at Georgetown University Hospital.

She retired from government service after 30+ years, serving as administrative assistant with NASA, the USAF and the FAA. After retirement she worked at St. Peter's daycare center in Waldorf.

She was preceded in death by her husband of 29 years, Charles H. Lueders. Barbara is survived by her children Rose and Matthew Welsh; her grandchildren Jarred (Heather) and Jordan Welsh; great-grandchildren, Alana, Sophia and Brenden; sister of Billy Ogo, Marty Tommer, Patricia Levee, Rozann Gardner, Bonnie Kellogg and Rose Hanna and a host of nieces and nephews.

Visitation on Tuesday, January 19, 2016 at 10AM, St. Peters Catholic Church, 3320 St. Peter's Drive, Waldorf, MD 20601. Mass of Christian Burial at 11AM. In lieu of flowers memorial contributions may be made to Charles County Humane Society, Georgetown University Hospital, or American Cancer Society. Arrangements provided by Raymond Funeral Service.