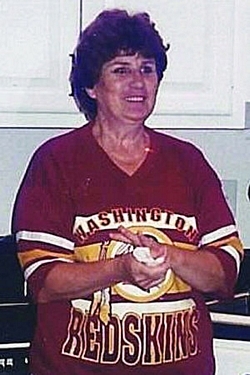 Claudia Maxine Rhodes Stakem, 76, of Stafford County, VA passed away on Friday, January 1, 2016 at Mary Washington Hospital, surrounded by her family. She was born January 18, 1939 in Indian Head, MD.

She is survived by her husband Michael Stackem; five children, Annette Dempsey (Bo) of Decatur, AL, Harold Nelson Jr. of Ruther Glenn, Eddie Nelson of Dahlgren, Linda Ellenwood (Jeff) of Fredericksburg, and Catherine Aswegan of Spotsylvania County; 16 grandchildren and 21 great-grandchildren.

She was the daughter of the late Helen Sprague Rhodes and the late Lomax Byron Rhodes. In addition to her parents, she was preceded in death by her brothers, Lomax, Bert, Darwin, John Robert, Arthur, Tom and Frankie Rhodes, her sisters, Susie Gilroy Moskol and Eunice Zink. She is survived by her sisters Alicia Heaney, Roxanne Davis and brothers Jimmy and Billy Rhodes.

Claudia started her career at the Virginia Department of Transportation, in Dale City. And was the first woman to work the scales on I95. She was later promoted to Chief of Scales Operation. She then transferred to the Permits Department on Fairfax. She retired from VDOT after 30 years of service.

The family will receive friends from 6-8 PM, Thursday, January 7 at Mullins and Thomson Funeral Service, Stafford Chapel with a Mass of Christian burial, to be held at 10:30AM Friday January 8, at St. William of York, Stafford.