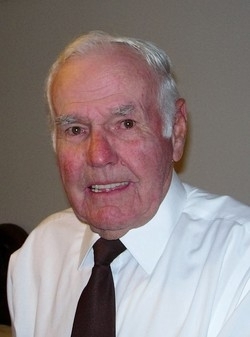 Philip Lloyd Welch, Sr., 85, of Charlotte Hall died on Tuesday December 29, 2015 quietly at his home surrounded by his family and friends.

Born on June 24, 1930 in Benedict, he was the youngest son of the late Louis Sylvester Welch, Sr. and Mary Ella Goldsmith Welch. He lived most of his life in Charlotte Hall and loved his hometown of Benedict. Some of his interests were fishing, crabbing, piddling and loved baseball. He didn't miss many days throughout his lifetime either, working on or around the river or just watching all the activities on the river. He spent many pleasurable times on the shore sitting in his "Little" building.

He entered the military in April of 1953 as part of Company B, 801st Engineering Aviation Battalion Stationed in Germany. He rose to the rank of corporal in April 1953 and earned the good conduct medal. In October of 1953 he was transferred to the US Army Reserves, serving until 1959. During his time in the reserves he was a carpenter with his brother Sam in Washington DC until he started working for SMECO in 1956. He worked for SMECO for 36 years retiring in 1992. He helped build the Benedict Bridge, his own house and many boats.

He was preceded in death by his wife of 43 years, Judith Marie Welch and his son Philip "Buddy" Lloyd Welch, Jr., his sisters Stella Violette, Lucille Williams and Angie Gardiner, brothers Louis "Sam" Welch, Jr., Leroy "Dusty" Welch, Adolph Welch, Kenneth Welch, Camillus Welch, and Roger Welch; survived by his sister Margret Ann Welch Brock of Mechanicsville, children Chris Welch of North Carolina, Jay Welch of Charlotte Hall, MD, Keith Welch (Danielle) of Mechanicsville, MD, stepchildren Bill Mattingly Jr. (Tracy) of Mechanicsville, MD, Karan Rose (Jimmy) of Charlotte Hall, MD, Cathy Sheeder (Shane), of Mechanicsville, MD, Connie Finley (Ray), of Mechanicsville, MD. He is also survived by twenty-two grandchildren: Toni, Shannon, James, Jimmy Jr., Christopher, Joseph Jr., Samantha, Kaitlin, Jessie, Kelley, Johnathon, Amy, Jason, Tyler, Justin, Brandi, Derek, David, Josh, Julie, Carson, Austin, and eleven great grandchildren: Conner, Kaylee, Emily, Briana, Leland, Karlie, Kayden, Jayden, Aida and Mason and a host of nieces and nephews. Pallbearers will be his grandsons

A viewing will be held at Brinsfield-Echols Funeral Home, 30195 Three Notch Road, Charlotte Hall, MD 20622 on Tuesday January 5, 2016 from 2 to 4 p.m. and 6 to 8 p.m. The funeral will take place at 10 a.m. on Wednesday January 6, 2016, at same location, with the burial immediately following at St. Mary's Catholic Cemetery, 13715 Notre Dame Place, Bryantown, MD 20617. Arrangements provided by Brinsfield-Echols Funeral Home.