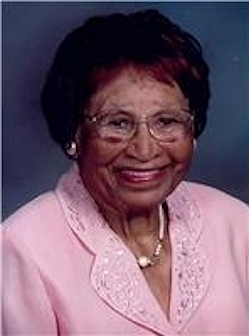 Mary Ida Barnes Young, of Leonardtown, MD, slipped quickly and peacefully from our earthly presence on Friday, December 25, 2015. God took her at the age of ninety-seven, and she entered a life of eternal peace.

A devout Catholic, Mary Ida Barnes Young was born in Medley's Neck, Maryland on April 26, 1918 to the late Mary Teresa and Luke Barnes. Ida attended the old Redgate Elementary School and Banneker School. She met and married her late husband, William Bernard Young. From this union, they were blessed with two children, William and Rose.

Ida worked for many years at the Leonard Hall School and after her retirement she was a dedicated domestic worker for several families in Leonardtown. She was a faithful member of St. Aloysius Gonzaga Catholic Church for over 70 years and a member of the St. Vincent De Paul Society.

Mama, as her family affectionately called her, loved to cook, clean her house daily, shop, and dress up in her fancy hats. She loved attending social functions and celebrating good times with her loved ones. Another favorite pastime of hers was to watch soap operas, particularly, "The Young and the Restless." She was always willing to make daily visits and spend time in prayer with ill family and church members in the nursing home, hospital, and sometimes in their homes.

She was preceded in death by three sisters, Mary Ella Swales, Mary Elizabeth Scriber, and Macie Theresa Stevens; and one brother, Herbert Aloysius Barnes. She leaves to cherish her memory her two children, William B. Young Jr. (Virginia); Rose M. Short (Jerome); three grandchildren, Cheryl Botts (Gary); Jerry Short; Angela McRae (Tim); seven great-grandchildren, Allana Botts; Mason, Austin, and MacKenzie Short; William, Porter, and Isabella McRae and a host of nieces, nephews, cousins and friends.

Family will unite with friends on Wednesday, January 6, 2016 for visitation at 10:00 am until Mass of Christian Burial at 11:30 am at St. Aloysius Gonzaga Catholic Church, 22800 Washington Street, Leonardtown, MD. Interment to follow at St. John Francis Regis Parish Catholic Church Cemetery, 43950 St. Johns Road, Hollywood, Maryland 20636. Memorial contributions may be made to Hospice of St. Mary's Inc., P.O. Box 625, Leonardtown, MD 20650. Arrangements provided by Briscoe-Tonic Funeral Home, P.A.