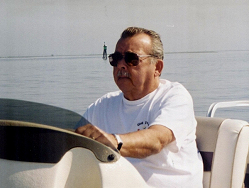 Louis Matthew "Toby" Hesen, Jr., of Chincoteague, VA. Toby was born in Washington, D.C. on January 6, 1936 to the late Louis Matthew Hesen, Sr. and Dorothy Woods Folan. He graduated from Anacostia High School and went on to become a member of International Union of Elevator Constructors (IUEC) Local 10 for over forty years.

Toby was a member of the Sons of America Legion Post 159. He was also a lifelong member of the Oxon Hill Sportsman Club where he enjoyed many years of hunting at the Nanjemoy hunt camp with his fellow club members. He was an avid Redskins fan and enjoyed his life of retirement on Chincoteague Island.

Toby is survived by his wife of 28 years Lynda Hesen, sons Steven Hesen, Christopher Hesen, daughters, Beth Browman, Kathleen Holtzclaw, and Theresa Walker; his step-children, Randi Leigh Shadwell, Richard A. Shadwell, Sr., Amy S. Hansen, and Ashley Thorne. He is also survived by 17 grandchildren, 11 great grandchildren, and his beloved McKenzie.

The family will receive friends at St. Andrew the Apostle Catholic Church, Chincoteague Island, Virginia on Saturday, 19, December 2015 at 11am. Repast to follow at the American Legion Local 159 after the service. In lieu of flowers donations can be made to the Chincoteague Island Library, 4077 Main Street, Chincoteague Island, VA 23336 or St. Andrew the Apostle Catholic Church, 6319 Mumford Street, Chincoteague Island, VA 23336. Services entrusted to Salyer Funeral Home, Inc. on Chincoteague Island, VA.