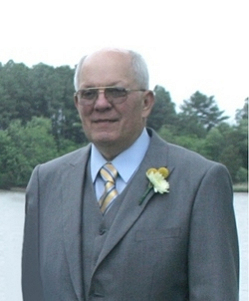 James Anthony "Jimmy" Gray, Sr., 71, of Mechanicsville, MD died on December 12, 2015 at Hospice House of St. Mary's. He was born on January 3, 1944 in Chaptico, MD to the late Frederick Carroll Gray and Mary Elizabeth Anderson.

Jimmy graduated from Margaret Brent High School in 1962. He retired from St. Mary's County Government as an Inventory Specialist.

Jimmy is survived by his children, Jim Gray (Jenny); Kevin Gray (Shelly) both of Mechanicsville, MD; his grandchildren, Jacob, Lindsey, Haley, and Kyle Gray; his siblings, Thomas Gray (Pat); William Gray (Joyce); Charles Gray (Wilma); Rosalie Carpenter; David Gray (Mary); Ralph Gray, Sr. (Pee Wee), and his loving fiancé, Peggy Berry and the rest of the Berry Family, which includes four children, nine grandchildren, and two great-grandchildren. Jimmy also leaves behind his beloved cat, Chloe. He is preceded in death by parents.

Family will receive friends for Jimmy's Life celebration on Thursday, December 17, 2015 from 5:00 to 8:00 p.m., with prayers recited by Rev. Keith Woods at 7:00 p.m., at Brinsfield Funeral Home, 22955 Hollywood Road, Leonardtown, MD 20650. A Mass of Christian Burial will be held on Friday, December 18, 2015 at 10:30 a.m. at St. Joseph's Catholic Church, 29199 Point Lookout Road, Morganza, MD. Interment will be in Queen of Peace Cemetery, 38888 Dr. Johnson Road, Mechanicsville, MD.

Pallbearers are Johnny Gray, Tony Gray, Ralph Gray, Jr., Ricky Norris, Billy Joe Johnson and Phil Wiley. Honorary Pallbearers are Chris Berry, Kevin Spillman, William Spillman and John Robinett. Memorial contributions may be made to Hospice of St. Mary's, Post Office Box 625, Leonardtown, MD 20650 or St. Joseph's Catholic Church, Post Office Box 175, Morganza, MD 20660. Arrangements by the Brinsfield Funeral Home, P.A., Leonardtown, MD.