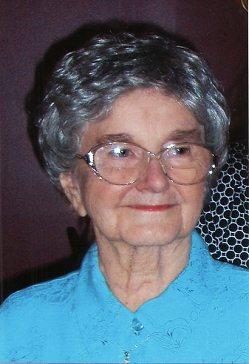 Martina Victoria Bussler Aud, 88, of Hollywood, Maryland passed away on December 8, 2015 in Leonardtown, MD. She was born on July 8, 1927 in Callaway, Maryland to the late Mary Evans Bussler Dement and Martin Bussler. Her father died before she was born. Her step-father was the late Alfred Dement.

Martina was the loving wife of James (Jeff) Aud, Jr., whom she married on January 31, 1948 at the Holy Face Rectory in Great Mills, Maryland. Together they celebrated 67 wonderful years of marriage.

Martina graduated from Great Mills High School in 1944. She worked at the Naval Air Station, Patuxent River until the birth of her first child in 1949. After that, she became a full time homemaker.

Martina enjoyed gardening and was a great cook. She loved country music and dancing. She was always happy to join in on a card game of pitch or poker with family and friends. After her husband Jeff retired, they enjoyed travelling across the United States in their campers and RVs. She was a fan of the Washington Redskins, Baltimore Orioles, and enjoyed watching NASCAR racing. She was a devout Catholic all her life, and was a member of St. John's Catholic Church in Hollywood for the past 43 years.

In addition to her loving husband, Martina is survived by her six children, Victoria McCool (Jim) of Hertford, NC, Janet Scammell of Surf City, NJ, David Aud (Sara) of Mechanicsville, MD, Esther Smith (Bruce) of Hollywood, MD, Joel Aud (Barbara) of Hollywood, MD, and Iris Roberts (Paul) of California, MD. She is also survived by her eight grandchildren, Scott Scammell of Golden, CO, Kim Weisel of Stockton, NJ, Karyn Foley of Parkville, MD, Elizabeth Greer of Mechanicsville, MD, Catherine Sheaffer of California, MD, Jeffrey Smith of Hollywood, MD, Bryan Smith of College Park, MD, and Hannah Aud of Hollywood, MD; and is also survived by six great-grandchildren. In addition to her parents, she was predeceased by her brothers, Charles Earl Bussler and Allen Leroy Bussler, and her sister Nina Dement.

The family will receive friends on Thursday, December 10, 2015 from 5:00 PM ¬Ė 8:00 PM with prayers recited at 7:00 PM in the Mattingley-Gardiner Funeral Home, Leonardtown, MD. A Mass of Christian Burial will be held on Friday, December 11, 2015 at 10:00 AM in St. John's Catholic Church, Hollywood, MD with Father Ray Schmidt officiating. Interment will follow in the Church Cemetery. Arrangements provided by Raymond Funeral Service.