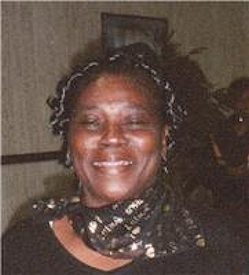 Sarah Elizabeth Blackiston departed this life peacefully and was called to eternal rest after a lengthy illness on Saturday, December 5, 2015 at her residence. Sarah was born to the late Robert P. Blackiston and Susie Mills-Blackiston on November 17, 1929. To her family and friends, she was affectionately known as "Betty".

Sarah attended St. Joseph's School in Morganza, MD. She was employed at St. Mary's Hospital. She was also a daycare provider for over 50 years. Sarah was known for caring for children and family members. She was also a faithful member and usher at Gospel Tabernacle of Prayer Assembly of Christ Church in Clements, MD. Throughout her life, she made many friends and was loved by many.

Sarah loved going to church, cooking her famous soul food style meals, listening to gospel music, watching her favorite television shows, playing cards, and doing yard work. Sarah loved sitting outside spending time with her family and grandkids. Sarah was very happy, kind-spirited, and had a heart of gold. Sarah's wonderful memories will be cherished by all who knew her.

Sarah was preceded in death by her parents, Robert P. Blackiston and Susie Mills-Blackiston; siblings, Buster, Arlene, Ruth, and Jimmy Blackiston; Mazie Herbert, Ella Holly, Gladys Griffith, and one grandson; Jasmine "Terry" Gordon.

Sarah leaves to cherish her wonderful memories, her loving sister, Alice Stewart of Great Mills, MD; her beloved children, Rayfield Blackiston, Sr. of Silver Spring, MD, Geraldine Snyder of Hollywood, MD, Yvette Snyder of Leonardtown, MD, and Robin Blackiston-Keys (Larry) of Great Mills, MD; twelve grandchildren; Cornelius Gordon, Terence "Peanut" Snyder, Marcell Blackiston, Wendell Blackiston, Tercell Blackiston, Travis "Frugg" Snyder, Rayfield "Lil Man" Blackiston, Jr., Marlon Aikens, Trevor Gordon, Marcus Courtney, and Michael Aikens, Jr; twenty great-grandchildren, two god-daughters, Stephanie Griffith and Melissa Bush; one special daughter, Monica Gordon of Lexington Park, MD; special friends, Yvonne "Donnie" Blackiston and Marie Gillis of Leonardtown, MD, Linda Stewart of Lexington Park, MD, and Jackie Moss-Forrest of Great Mills, MD, a host of aunts, nieces, nephews, many other relatives and friends.

Family and friends will unite on Thursday, December 10, 2015 at 10 am until time of service at 11 am at Gospel Tabernacle of Prayer Church, 24516 Budds Creek Road, Clements, MD 20624. Interment will be private. Arrangements provided by Briscoe-Tonic Funeral Home, P.A.