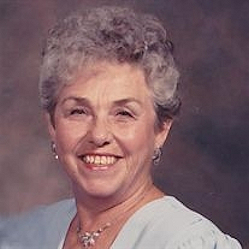 Mildred passed away on November 27 at Hermitage at Solomons under hospice care surrounded by her family. Mildred "Madeline" (Burke) Greene was born on September 28, 1920 in Elmhurst, Delaware to the late Benjamin and E. Ruth Burke.

She and her siblings, Eda, Benjamin and Margaret were raised in the Wilmington, Delaware area and Madeline graduated from Wilmington High School in 1939. Soon after graduation, Madeline met her sweetheart George B. Green and they were married September that same year. Madeline and George had two daughters, Carol born in 1941 and Terry born in 1949.

During WWII George joined the Navy and Madeline and the two girls went back to Wilmington where she worked at Fort Dupont during the war effort as a teletype and communication expert. After the war, the family settled back in the Washington DC area to raise their family. George took a job in the Wholesale Meat Industry and Madeline settled into her role as homemaker, mom, seamstress and wife.

Madeline was a devout Christian woman who instilled her faith in her family as well as others. She taught Sunday school classes. VBS classes, sang in the choir and helped in as many ministries as she could. She also served as a member of the VFW Ladies Auxiliary in Morningside, MD. Madeline and George moved to Ocala, Florida in 1993 as retirees and enjoyed living there, Madeline's sister Ruth as also just a few doors down the road.

Her life was marked by love and compassion for others; dedication to her family and her love for God. She will be remembered as always having a smile on her face and her contagious laughter. She was the beloved wife to the late George B. Greene. Loving mother to Terry (Ronny) Samuels and the late Carol Jones. Sister to Ruth Brown. Grandmother to 3, great grandmother to 2 and great great grandmother to 2.

Memorial contributions my be mad to the Hermitage at Solomons or Calvert Hospice. Arrangements provided by Lee Funeral Home.