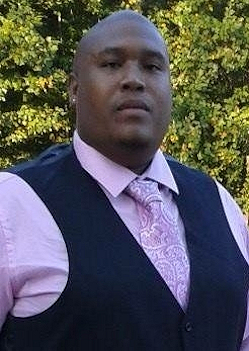 Frank William Baines, 30, of Lusby, MD passed away suddenly at his home on November 26, 2015. He was born on August 23, 1985 in Norfolk, VA to Frank Baines and Darshell Glee-Baines.

Most of Frank's years were spent in Maryland, where he played baseball. Frank was well known for his skills as a catcher for his travel team, parks and recreational team, and for his school team, Chopticon Braves. Frank won many baseball awards and trophies; the most important being a scholarship to Delaware Tech. Frank graduated from Delaware Tech and earned associates in business; where he applied his skills to work in retail.

Frank was also known for his personality. He always had a big smile and a pocket full of jokes. He was very outgoing and made friends easily. He enjoyed spending quality time with his family and building things with his father. He also enjoyed being an uncle to his nephew; Frank promised Brayson would play baseball just like him someday.

Frank is survived by his parents, his grandparents, William Baines and Teresa Baines, his two sisters, Amor Feliz Glee, and Ashley Baines Cox, stepmother, Virginia Lee Baines, his nephew Brayson Parker Cox, and his many aunts, uncles and cousins.

Family will receive friends on Tuesday, December 1, 2015 from 2:00 p.m. until 4:00 p.m. at the Rausch Funeral Home, 20 American Lane, Lusby, MD 20657. A funeral service will be held at 4:00 p.m. in the funeral home chapel. Interment will be private. Arrangements provided by Rausch Funeral Home.